Drive-thru liquor store planned on Highway 24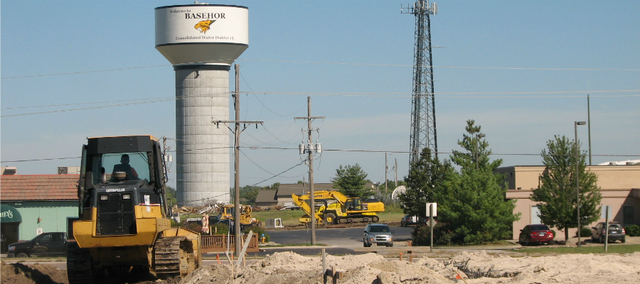 A development firm is opening a 9,400-square-foot retail space on State Avenue/Highway 24 near 155th Street in Basehor, and one of the confirmed businesses will be a drive-thru liquor store.
The firm, 3 Bs CDS LLC, is hoping to open Bohanon's Wine and Spirits in the space by late December, according to 3 Bs partner Caroll Bohanon. The liquor store, Bohanon said, will be owned and operated by his wife, Lena Bohanon, and will focus on selling craft beer and specialty liquors.
"We want to attract more people in the area to more varieties," Caroll Bohanon said. "We feel like there is a growing need for wines and craft beers in this area and that both are a kind of growing niche that people want here."
The new store's location is directly across Basehor town square from Shorty's Liquor and Party Shop, which has been in that spot for 12 years. Cathy Breuer, owner of Shorty's, would not comment on the arrival of the new competitor.
Caroll Bohanon said his wife's liquor store will occupy about half of the new retail space. The remaining 4,800 square feet includes three retail spaces available for lease. Although there have been no formal agreements, Caroll Bohanon said he hopes to see one of the spaces used as a restaurant.
"I think Basehor has the need for a sit-down restaurant," Bohanon said. "There's Kelly's (Restaurant) across the street which is great, but the area could use some more options."
The location for the new liquor store, Caroll Bohanon said, is what initially drew his family's business to the area. State Avenue, according to the Kansas Department of Transportation, serves more than 16,000 vehicles daily.
"We'd like to get the flow from Tonganoxie all the way to Kansas City," Caroll Bohanon said.