World War
II

heroes visit Basehor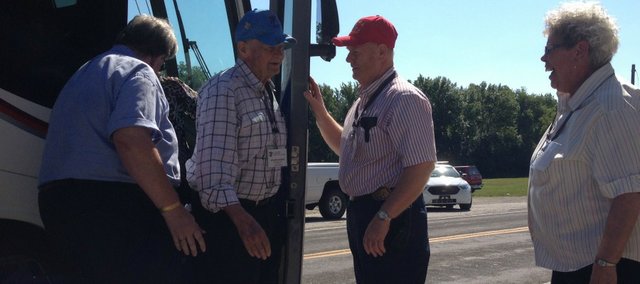 Rose and Steven Finkelman sat in the Basehor VFW post on Thursday surrounded by the men — the few who are left ­— who liberated the concentration camp in which Wolf Finkelman, Rose's husband and Steven's father, was brutally confined.
Wolf Finkelman was just 16 when the U.S. Army's 71st Infantry Division, the Red Circle, liberated Gunskirchen Lager concentration camp in Austria. At the time, the camp was home to 18,000 captives. Rose Finkelman said her husband walked with another survivor for miles until they found a farmhouse and a woman took them in and fed them. Wolf Finkelman died three years ago. His son and wife now meet with 71st Infantry Division for their annual reunions all around the country, forever grateful.
"Without these guys, I wouldn't be here," said Steven Finkelman, a financial professional from Houston, Texas.
This year's reunion brought the World War II veterans' group to Kansas City for the first time. One of the members of the 71st Infantry Division was Basehor's own Bob Wiley, for whom the current Basehor VFW post is named. Wiley died three years ago but his son Lyle Wiley and his wife Liz Wiley continue to travel with the group. Both jumped on the chance to bring them to Basehor.
"This is very special," Liz Wiley said while waiting for the bus of veterans to unload off 155th Street. "We've all become family but we're losing them so fast."
Only about 24 members of the 71st Infantry Division remain, according to Lyle Wiley. When asked what it meant to him to have this historic group visit the VFW post that his father created, Lyle Wiley became emotional and all he could do was pat his heart with an open hand.
The 71st Infantry Division was activated in 1943 and landed in France in February 1945. The division was critical in several instrumental victories across Germany and eventually the division moved southeast into Austria. The division was the furthermost east division of infantry in World War II when it arrived at the concentration camp at Gunskirchen Lager. The victims in that camp were set free just two days before VE Day in May 1945.
At the luncheon on Thursday, the group sat and listened to Ft. Leavenworth Colonel Brian McHugh talk about modern day infantry training. The group compared its members' training and war stories with McHugh, now able to laugh about some of the stories. Former Basehor VFW Commander Fred Box relished the group's appearance in Basehor and is also honored with being selected to speak at the official reunion ceremony on Saturday in Overland Park.
"It means a lot. This honors Bob (Wiley) and all of them," Box said.
The group also toured Basehor's museum and the Fairmount Township Fire Department. Bill Jucksch, a veteran from the 71st Infantry division, said it was "thrilling" to visit Basehor and see Bob Wiley's VFW post. Jucksch, from Virginia, turns 88 in October.
"We may have been strangers during the war," Jucksch said of Bob Wiley, "but the brotherhood from war bleeds over into a brotherhood that we had in this close group."
Steven Finkelman and his mother have been able to sit, eat and share stories with this group every year for the past three years. Steven Finkelman's father was taken to America by an organization started by Eleanor Roosevelt for orphaned children from the war, Steven Finkelman said. Placed in Houston, Texas, Wolf Finkelman grew into a successful entrepreneur.
"No matter what else they did in their lives," Steven Finkelman said, "nothing can compare to how many lives they saved."