Basehor Community Garden hopes third year brings more growth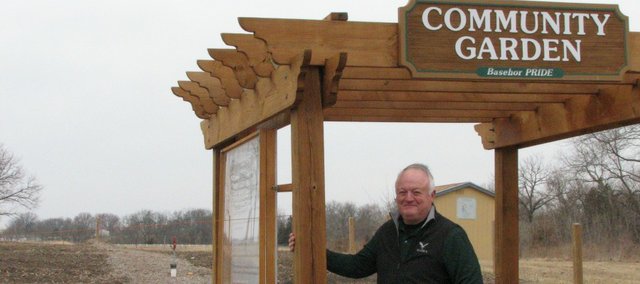 Basehor — The members of Basehor PRIDE hope this spring brings similar success to last year when it comes to the Basehor Community Garden.
Situated on the north end of Basehor City Park, the community garden still lies dormant, waiting for anxious gardeners to till the dirt and plant flowers and vegetables. So far, winter's cold hold on temperatures has delayed the opening for a month. Even so, this year looks to be one of continued expansion for the successful garden.
From 2012, the garden's first year, to 2013, the number of reserved plots of land doubled from 14 to 28. Basehor PRIDE member Orville Stokes hopes that trend continues this year.
"The expansion last year blew our socks off," Stokes said, "and people are excited this year because of all the cold that we have had."
This year, the garden will open April 26 with a group cleanup day to prepare the beds for growing months ahead. Newly available this spring will be six raised plots. There are two 8-foot-by-8-foot raised beds available for $25 each, and four 4-foot-by-8-foot beet beds available for $15.
The raised beds were paid for by a Kansas State University sponsored grant, Stokes said. Members of Basehor PRIDE prepared the beds to be assembled on April 26.
"Kids can come out and help put the beds togethers," Stokes said. "They are predrilled and numbered so kids and families can come out and easily assemble them.
The garden will also feature its 10-foot-by-10-foot plots for $15 and 10-foot-by-20-foot plots for $25. The fee is a one-time charge for the entire year and covers water costs.
Along with water, the Basehor PRIDE provide gardeners with typical gardening tools for no extra cost while they are at the garden. Basehor's PRIDE group was formed in 1994 and provides services in community development and beautification projects.
Stokes said anyone from Basehor and the surrounding communities is invited to purchase a plot.
Basehor PRIDE, through its four-person managing committee and president Chuck Wilderson, designed the Basehor Community Garden after the Olathe community garden. Stokes said the Olathe garden has blossomed because of a strong relationship with the city and residents.
"We have the same thing here," Stokes said after watching the local garden grow over the past two years. "The city and the public works department has been great letting us store things and expand the garden."
Stokes said Basehor PRIDE and other community organizations are hoping to schedule educational and family friends events at the garden in the coming months.
For more information about the garden or if you would like to purchase a garden plot, contact Stokes and 913-416-3154 or Basehor PRIDE via email at basehorpride@gmail.com.