Basehor-Linwood officials fight for virtual school funding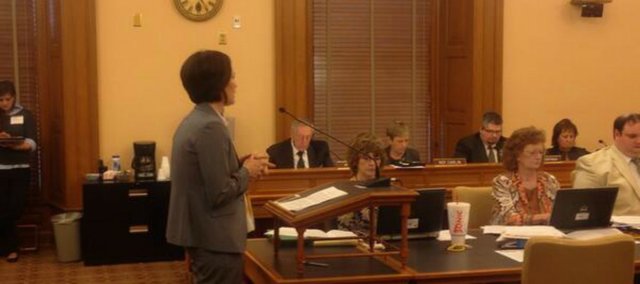 Topeka — While state lawmakers mull several bills aimed at meeting the Kansas Supreme Court mandate on equalization, Basehor-Linwood school officials traveled to Topeka to fight for funding for the district's and the state's virtual schools.
Several state House bills and a Senate bill have proposed cuts to virtual school funding by more than 50 percent as a way to equalize school funding across Kansas.
For Basehor-Linwood, which uses its own curriculum and teachers, the cuts could have a "devastating impact" on the program, according to USD 458 Superintendent David Howard.
"If that happened, the school board would have have to examine if the district could support the program," Howard said Tuesday from Topeka.
The Basehor-Linwood Virtual School currently has 235 students, and Howard said that reducing funding by 50 percent to $1,926 would cut funding for the students by almost $500,000. Howard said BLVS is different from some Kansas schools that contract their virtual programs or use statewide programs. BLVS, founded in 1998, uses its own curriculum and staff teachers.
Students in BLVS are required to be on site for training and are also required to take state and local assessments on site. Howard, who testified to the Senate Ways and Means Committee on Tuesday, said that BLHS's eight early graduates in the past two years have used the BLVS programs to get ahead. Howard argues virtual schools are saving districts money by graduating students early and by keeping them out of a traditional classroom format, which he says would cost the state much more.
"BLVS has helped hundreds of students earn a high school diploma who otherwise had very little chance of graduating from a traditional brick-and-mortar building," Howard said.
USD 458 School Board President Dayna Miller traveled to Topeka along with Howard and Nicole Hodges, director of the BLVS.
"A cut like the ones proposed affect everybody involved with the school," Hodges said.
Hodges testified Monday to the House Appropriations Committee and told the story of a 33-year-old mother of two who dropped out of high school due to learning disabilities. The woman was recently able to earn her diploma through BLVS and secure a higher paying job.
"The opportunity to learn and to experience success absolutely changed her life and the lives of her children," Hodges testified.
Also on the chopping block in the school funding debate are transportation funds. The proposed bills being heard in both the Senate and the House would cut USD 458's transportation funding by about $96,000, according to Howard.
In a blog published earlier this week, Howard implored local residents and parents to contact their legislators about the proposed cuts as the lawmakers try to find a way to meet the Supreme Court's mandates while balancing the rest of the state budget.
A vote on the school funding bills is expected by Friday.