Fulkerson signs with Baker cross country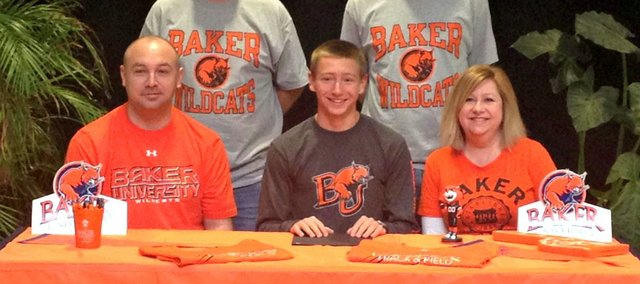 Less than a year after helping Basehor-Linwood to its most successful cross country season in program history, senior Johnny Fulkerson is running to the collegiate ranks.
Fulkerson's career as a Bobcat came to a close in the fall, but he'll continue to run next season at Baker University in Baldwin City.
A four-year runner at BLHS, Fulkerson helped the Bobcats earn their first state bid as a team since 1982. The team ended its 31-year drought with a third-place regional finish Oct. 26 at Wyandotte County Park. Fulkerson finished in the top 20 individually, coming in 19th with a time of 17:50.2.
Not satisfied with just making the cut, the Bobcats posted their best-ever state finish a week later, coming in sixth out of 12 teams in Wamego. Fulkerson finished in the top 50 alongside fellow seniors Luke McGowan, Tanner Tavis and Mark Vitt.
Fulkerson joins a Baker team coached by Zach Kindler. The Wildcats posted five top-10 team finishes last season, including a fourth-place showing at the Heart of America Athletic Conference championships in November.