BLHS

girls soccer blanked by De Soto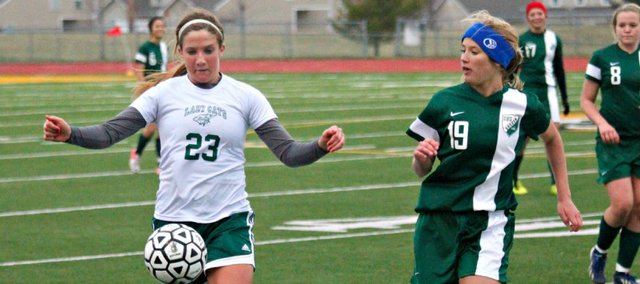 De Soto 2, BLHS 0
First half scoring
Macey Harrington (DES), 23:25
Second half scoring
Tanith Beal (DES), 4:11
For most of the night in Thursday's visit from De Soto, the Basehor-Linwood girls soccer team was just one kick away from a tie game. However, the Bobcats never could find any offensive production against one of the state's top returning teams.
BLHS is still in search of its first win under coach Erik Jones after a 2-0 loss to the Wildcats, the 2013 Class 4-1A third-place finishers.
De Soto controlled possession from the beginning and got off several shot attempts in the opening minutes, but goalkeeper Brianne Kennedy made several saves to keep the game scoreless in the early going. The Wildcats finally broke through on a goal by Macey Harrington with 23:25 left until halftime.
They got a chance to double their advantage about four minutes later, but an open shot attempt by Madison Blake ricocheted off the left goal post. The Bobcat defense tightened up and didn't allow De Soto another clean shot attempt for the rest of the half.
"We definitely were able to frustrate them," said Jones, whose team also dropped a 4-1 decision Wednesday against Baldwin. "They do a nice job possessing the ball, but I liked our effort. We did a very nice job defending, and I thought our goalkeeping was excellent tonight, which always helps."
The teams spent most of the second half on the Bobcats' side of the field, but once again, Kennedy came up with numerous stops to keep the deficit at one goal.
Jones' squad got a chance to tie the game on a free kick by Nicole Rutherford, but her shot sailed wide left with 11:35 remaining. De Soto doubled its advantage when Tanith Beal beat the defense and drew Kennedy out of the net for a score with 4:11 to go, and neither team scored again before the final whistle.
The BLHS offense came away with several loose balls, but struggled to move the ball past midfield throughout the game.
"We've got to relax when we win the ball and not just immediately turn it over," Jones said. "We work so hard to win the ball, then we panic and give it right back to them. We just need to show a little composure. Doing that is going to help us generate a lot more offense."
The Bobcats will open next week with back-to-back home games. They'll host Cair Paravel on Monday, then welcome Maranatha Academy to town on Tuesday.
"We've played three very solid teams, but we've made up a lot of ground in those three games," Jones said. "The score isn't always indicative of that, but it gives us a better idea of where we are and where we need to be. We've got a ways to go, but it's an improvement."