Basehor-Linwood student to compete in Junior Olympics in Colorado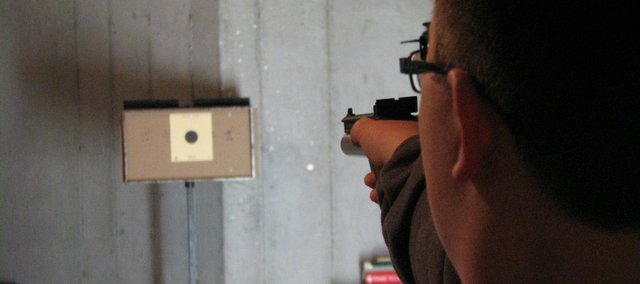 Blake Tucker calmly and decisively loads a single BB into his air pistol, lifts it from his waist, exhales and pulls the trigger.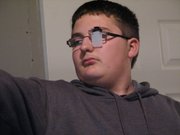 The metal BB tings as it hits the bullseye of a target 10 meters away. Tucker, 13, repeats this disciplined routine multiple times in his basement shooting range as he prepares for his first trip to the Junior Olympics in Colorado Springs, Colo., April 9 through 11. There, he will compete with other shooters, ages 10 to 20, in the air pistol competition. The day he returns, he will travel to Alma, Kan., for the state shooting championship.
When asked what he does to prepare for such a high-pressure environment, Tucker said: "Just relax and go out there to do what I do."
"I don't really get nervous," he added.
The nerves that Tucker avoids are made up for by his mother, Annette Tucker, who watches him compete and helps scorers at local Wyandotte County 4-H Shooting Club competitions.
"I think everyone else gets nervous around him," Annette said.
Blake, a student at Basehor-Linwood Middle School, is one of several local shooters who have found success on the regional stage. Lydia Patterson, 16, a Piper High School student, claimed the silver medal in the Women's Air Pistol event last summer and now competes on the national shooting team. Blake practices with her and about 30 other shooters in the Basehor and Bonner Springs area.
Patterson said she didn't know about competitive shooting until she joined the 4-H club several years ago. But in the past two years, Patterson has competed in two World Cup competitions in Ft. Benning, Georgia, and Granada, Spain. She has also competed in Germany.
"It's really taken off," Patterson said. "I never thought I'd be where I am now."
Blake's father, Dan Tucker, said the shooting club through 4-H is a great program for youths, although he said not many people know about it. Dan became a local coach about seven years ago when Blake started competing.
"It's a really great program," Tucker said. "It teaches gun safety and teaches concentration and discipline. You really have to be disciplined to get into it."
The best example of that discipline is Blake's shooting routine. Blake handles his 2-pound Steyr LP-10 air pistol with extreme care as he loads it before every shot. There is no wasted movement as he lifts it to shoulder height, looks down his arm and through the gun's sight and fires. For Junior Olympics, Blake will have to repeat the sequence 60 times as he tries to get as close to a perfect score of 600.
"The gun starts to get really heavy," Blake said. "You can tell when your arm starts falling."
Blake became interested in shooting during hunting trips with his family. Although he uses larger guns to duck hunt, Blake said, he has chosen the air pistol as his favorite gun to shoot for competition. As he gets older and more advanced, he said he will step up to bolt-action air rifles in competition.
The sport is one that is very time-demanding, as the Tuckers know. Every weekend, Annette said, they travel to 4-H clubs around the state to compete. Some trips, they leave at 5 a.m. and don't return until midnight.
"It's pretty demanding," Annette said.
But all the dedication has paid off for Blake. He was the first in the Wyandotte County 4-H Shooting Club to score a perfect 100 in BB gun in the prone position.
Blake hopes to take his recent successes and parlay them into a medal at the Junior Olympics and a trophy at the following state competition on April 12. If he places at state, Blake would advance to nationals on July 4 in Rogers, Ark.
At the Junior Olympics and state competitions, scouts will be watching the shooters and assessing their talent levels. Blake hopes to get noticed so that he can continue his shooting routine into college. There are more than 300 colleges with shooting programs in the United States.