Basehor furniture store opens, finds success in restoration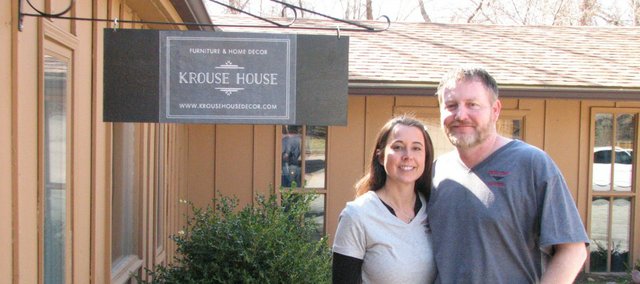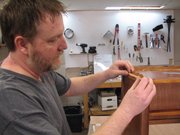 Basehor — From the moment Todd Krouse married Tara Krouse and they moved into their Basehor home, Todd got to work. He had no idea it would lead to his family starting its own business 20 years later.
He stripped and refinished the house's 1940s cabinets and built a nursery. He did it all while learning on the fly, but Todd enjoyed it so much, it became a hobby. Tara was the same — she too enjoyed do-it-yourself projects and sewed a variety of things, including elaborate Halloween costumes, for the Krouse family.
But it wasn't until recently, when Todd refinished an old oak gun cabinet and a friend offered to purchase it from him, that Todd and his wife thought about starting a business based on their hobbies.
"I thought, 'Wow, that's kind of cool, I've got a hobby that someone just offered to pay something for,'" Todd said recently while sitting outside the Krouse's new business: Krouse House, Furniture and Home Decor.
The idea to launch the business came in January, and the evolution of the project was a family effort.
Todd and Tara had a yard sale of sorts on a Saturday and saw good response. They held the sale on their mom's, Sue Krouse, property at 14200 Parallel Road, where The Klip Joint is located. The Klip Joint is operated by Todd's aunt, Sherry Beckerdite. Meanwhile, Todd and Tara's daughter Trinity, 13, helped create a Facebook page for the Krouse House, and their son Tristan, 15, helps Todd with woodwork. Todd's brother Robert Krouse and his son Ben Krouse also help with advertising and woodwork.
"We've got our own strip mall going now," Todd laughed.
Ever since the Saturday sales, Todd said, people would try to look at the furniture while they visited Klip Joint. Because of the interest locally, Todd and Tara are opening their own storefront, beginning this week, Tuesday through Saturday at the same location.
Tara said the incoming business has all been a result of word-of-mouth advertising and social media connections. While they initially thought the business would be aimed at creating unique furniture, Tara said, business has shifted to people asking for restored older pieces of furniture.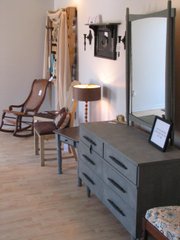 Todd and Tara began collecting older pieces of furniture to restore themselves in the beginning, but have since had requests from customers to restore pieces already in their own homes.
"It went from doing a couple of pieces to more and more of just refinishing pieces," Todd said.
Tara uses her skills to reupholster chairs and add a unique touch to other pieces while Todd does the majority of the woodwork and painting. Tara has created a line of vintage pet beds, also sold at Wagg'n Tails Day Spa in Basehor, out of old hard-case suitcases.
The married couple, who both have full-time jobs at area banks, said they were partially inspired by the do-it-yourself trend exploding on television with shows such as "American Pickers" on the History Channel. Now, lining the walls of their store, the Krouses have refinished and customized book shelves, desks, chairs and dressers ranging from $20 to $250.
"It's not just about selling a chair anymore," Tara said. "It's the creativity behind it. We have really noticed a trend back to more retro style furniture."
The Krouses will operate the store part-time while their aunt oversees the business during the week, along with The Klip Joint.
For more information about the Krouse House, visit krousehousedecor.com or call 913-568-5746. The Krouse House in open Tuesday through Saturday, 8 a.m. to 4 p.m.