BLHS

softball blasts Tonganoxie
Bobcats to face Mill Valley on Thursday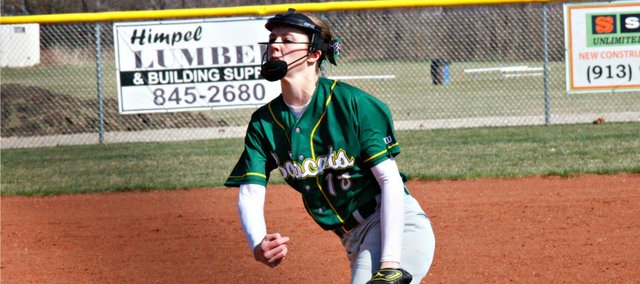 Tonganoxie — The Basehor-Linwood softball team returned to action Tuesday with a visit to Kaw Valley League rival Tonganoxie. Even after a weeklong hiatus, the Bobcat squad looked like a well-oiled machine.
BLHS came out hot and never cooled off in a two-game sweep of the Chieftains, winning by scores of 11-0 and 17-2 at the Leavenworth County Fairgrounds.
"Any time you can go home with two wins, it's a good day," coach Susan Mayberry said. "When we play together, good things can happen."
The Bobcats (6-0, 4-0 KVL) struck early in the first game, scoring single runs in the first and second innings off Tonganoxie pitcher Morgan Oroke. Candice Jennings doubled home Anya Armstrong in the first, then Kali Jacobson hit a solo home run to double the advantage in the second.
The Chieftains (2-2, 2-2) got a chance in the home half of the first when Marissa Martin and Sierra Graham opened the game with back-to-back singles, but Martin was thrown out in a rundown and Graham was picked off at first to end the threat.
"We've got a seasoned infield," Mayberry said. "I think our defense really set the tone. When you control that element of the game, it can ignite your defense."
The score remained 2-0 until the fourth when the Bobcats erupted for nine runs. They sent 14 hitters to the plate, combining for eight hits and three walks. Jennings hit a two-run double, Lackner had an RBI triple and Jacobson added a two-base hit of her own. Neither team scored again through five innings, so the mercy rule went into effect.
Madison McDowell got the win in the pitcher's circle, throwing five shutout innings. She gave up just four hits — three of them singles — while striking out three and walking one.
After a scoreless first inning in the nightcap, Mayberry's squad went in front on an RBI groundout by Gaby Brown. The Bobcats blew the game open with a six-run fourth, taking advantage of several THS mishaps. Jennings hit a two-run double and scored on a fielding error, then Allison Kasick, Katie Lackner and McDowell scored on passed balls.
"Any time you put the ball in play, it's going to create opportunities," Mayberry said. "The game plan in the second game was to be patient and get deep in the count. (The fourth inning) gave us a cushion where we could relax. It was a good performance."
Tonganoxie got one run back in the bottom of the inning on an RBI single by Halley Calovich, but the Bobcats plated two more in the fifth. Kayleigh Schoenfelder homered and Kasick doubled in Jennings to make it 9-1. THS scored once more on a groundout by Martin, but that's all the offense it could muster.
Brown kept the Bobcat scoring going with a two-run home run in the sixth, then BLHS capped off the game with six more runs in the seventh. Jacobson provided the final scoring margin with a two-run single.
Asia Larsen went the distance for the win. She gave up two runs on seven hits while walking two and striking out two.
"I thought (both pitchers) came out and did a good job of letting our defense play," Mayberry said. "Madison pitched pretty well and, if Asia hits her locations, she's going to be effective."
BLHS will put its undefeated record on the line at 3:30 p.m. Thursday in a home doubleheader against Class 5A Mill Valley. The Bobcats and Jaguars split last year's KVL title.
"We're looking forward to seeing how good we are and how we match up with Mill Valley," Mayberry said. "That's always a good rival, so we'll see what Thursday brings."
Game 1
BLHS 110 90 — 11
THS 000 00 — 0
Game 2
BLHS 010 622 6 — 17
THS 000 110 0 — 2