Basehor-Linwood softball sweeps Mill Valley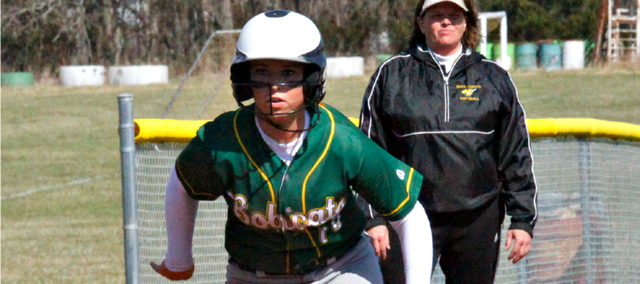 Basehor — The Basehor-Linwood High softball team took two games from Mill Valley High Thursday night, which could have big implications for the Kaw Valley League title.
The Lady Bobcats won game one 8-3 and game two 12-10.
Game two was a back-and-forth affair as Mill Valley jumped out to a 3-0 lead before BLHS even batted. However, the Lady Jaguars put a five spot on the board, which included a two-run home run from Allison Kasick, the first home run hit at BLHS's new field, which was supposed to open last season, but didn't.
Kasick went 2-2 in the game, with two walks.
MVHS took the lead right back in the second with three more runs and one in the third, which chased started Asia Larsen out of the pitcher's circle in favor of game one starter Madison McDowell.
McDowell allowed three more runs in the fourth, but that was all the offense for Mill Valley as it was shut down in the fifth, sixth and seventh innings.
BLHS started to chip away at the lead slowly as it found itself down 10-6 heading into its half of the fourth.
BLHS coach Susan Mayberry played small ball in the fourth and fifth.
Gaby Brown walked, and was moved over on a sac-bunt from Kayleigh Schoenfelder. Mill Valley's Lexie Myers tried getting Brown out at second, but the throw was well late, giving BLHS runners at first and second.
Two batters later after a sac-bunt from Jenna Donnelly, Candice Jennings delivered a two RBI double to tied the game.
Jennings back came up huge in the fifth when she doubled in two more runs to give the Lady Bobcats the lead for good. She went 2-for-4 in game two with four RBIs and two runs scored.
For Mill Valley, Brenna Ramirez went 2-for-4 with two RBIs and a run. Kaitlyn Jackman went 3-for-4 with a run and an RBI. Rienna Schriner scored three times.