Jaguars see new addition to starting rotation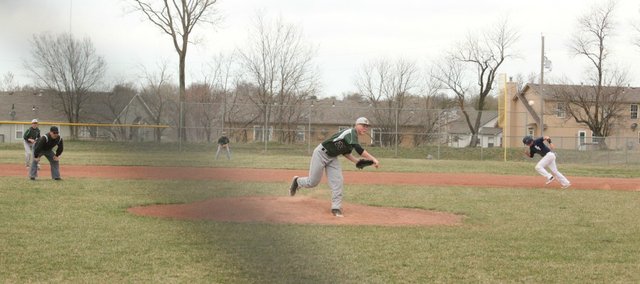 In his first varsity start ever, Zach Hanna might have worked his way into Mill Valley High's starting rotation after striking out seven batters in six-shutout innings of work in a 9-0, game two victory against Basehor-Linwood High on Thursday afternoon.
The Jaguars won the first game 12-2 after a complete game from Brenden Shutt.
MVHS coach Jeff Strickland said Hanna was sharp around the zone, and threw four pitches for strikes.
Strickland said Hanna has thrown in the summer for the Jaguars, never at the junior varsity level. He's been an asset as a position player.
"We knew he had the ability, and he's been working on (pitching)," Strickland said. "He did everything we asked him to do. His approach was good."
Hanna walked three and allowed two hits.
In game one, Shutt allowed six hits while striking out five.
The Jaguars got on the board in the first inning of game one when Hanna knocked in Tyler Garrison on an RBI single. Hanna then scored when Jake Hanson drove him in.
The Bobcats got one back in the second inning when Dane Quigley drew a bases-loaded walk, but that was all they could squander as Jake Hahn popped out to short to end the inning.
"That was (Shutt's) second varsity start," Strickland said. "He's a sophomore, but his composure on the mound is something we really, really like. He doesn't get rattled easily. He doesn't change his approach. Any time, at any level in baseball, when you have your starting pitcher go late into the game or even a complete game, that's great."
MVHS tagged Hahn for six runs in the seventh inning to break it wide open after he relieved starter Avery Fliger.
Ashton Findley had the most success against Shutt, going 2-for-3 with a walk and run scored.
For the Jaguars, Garrison went 3-5 with two RBIs, a stolen base and a run scored. Hanna went 2-for-5, as did Bryce Lievens. Tyler Willard, who batted in the seven-hole, went 2-for-3 with an RBI and two runs scored.
"(Willard's) last two games, offensively, have been excellent," Strickland said. "He's swung the bat really well. We expect that from our seniors."