Basehor
ZIP

code to extend south of State Avenue, effective July 1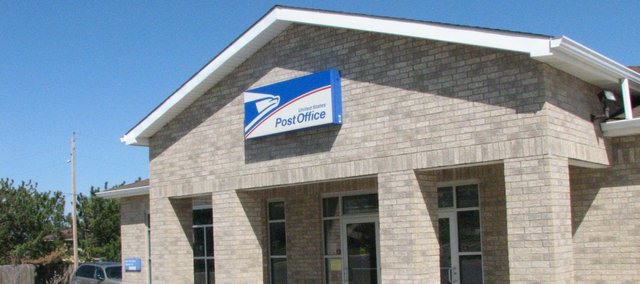 Basehor — Dayna Miller gave up on having her son's prescriptions mailed to her at her Glenwood Estates address a long time ago because of confusion over her address and ZIP code.
Miller, the USD458 School Board President, has lived in Basehor for more than a decade but has a Bonner Springs ZIP code. Her son's prescriptions were getting to her house four days late, every month, because of confusion over her address at the Bonner Springs post office.
"It was infuriating," Miller said. "I ended up just having them sent to the Basehor office so I could pick them up there, on time."
But Miller's and hundreds of others' frustration with her ZIP code is about to end. The U.S. Postal Service recently approved the realignment of the Basehor 66007 ZIP code. The decision was announced at last week's city budget retreat.
The approval means that all of the homes and businesses from 150th Street to 174th Street south of U.S. Highway 24/40 to Interstate 70 will now have Basehor, 66007, mailing addresses instead of Bonner Springs, 66012.
U.S. Post Office representative Peter Nowacki said the change will affect approximately 600 delivery addresses.
In May 2013, city residents filled out surveys asking them if they approved the ZIP code change. Two hundred forty-six people voted yes, while 181 voted no.
The ZIP code boundary realignment will take effect July 1, and a letter will be sent out to residents affected by the change by no later than June 1.
City Administrator Lloyd Martley said the Post Office will make the changes on the residents' addresses, but people will have to change their personal documents to reflect the change and will have to contact their insurance agencies.
Miller said she is happy to change her own personal documents as long as it avoids the headaches she had experienced with her Bonner Springs address.
"I'm ecstatic," Miller said. "I want to be with my people."
The city started looking into the issue more than two years ago after some residents reported they'd been charged a Bonner Springs sales tax rate after ordering purchases to be delivered to their homes, and that confused insurance companies had given them higher Wyandotte County rates.
Other issues included Basehor residents in the 66012 ZIP code having to drive to the Bonner Springs Post Office to pick up packages and signature-required mail, and contractors having difficulty determining which city to purchase permits and licenses from.
When the proposal to change the ZIP code was presented to residents, Martley said that emergency dispatch responses were often confused by Leavenworth County emergency calls from Bonner Springs addresses. Miller said she had experienced trouble in the past requesting utility services from companies who insisted she lived in Wyandotte County because of her Bonner Springs address.
The Basehor-Linwood Middle School, which currently has a Bonner Springs address, also ran into confusion over their address several years ago when competing in a regional spelling bee. Principal Mike Wiley said that the Leavenworth County Spelling Bee did not accept the school's application to participate four years ago because of their address. As a result, the school competed in the Wyandotte County Spelling Bee that year.
"Just a funny example of what type of things were happening," Wiley said.