Walcott breaks
BLHS

mile record at home meet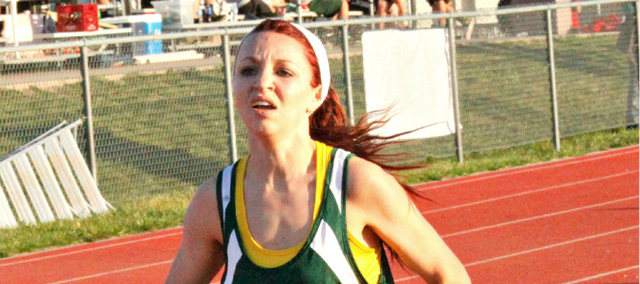 Related document
When the 2014 track and field season is over, Basehor-Linwood coach Scott Russell might want to give Quinnlyn Walcott the program record book and a pen.
Walcott broke her third BLHS record in two meets Friday at the Bobcat Relays, claiming the top spot in school history in the 1,600-meter run. The Bobcat junior crossed the finish line in 5:31.39, taking more than five seconds off the previous record of 5:36.66 set by Michelle (Standish) Schubert in 1987.
"I definitely did not expect this," said Walcott, who also broke the school's 2,000-meter steeplechase and 3,200-meter records April 4 at the Baldwin Invitational. "I came in this season already a week behind from basketball, so I didn't even think I was in shape. Basically, my one goal this season was the beat the mile record. To do it in front of the home crowd is just amazing."
Walcott dominated the field, winning the event by better than 18 seconds. She also won the 3,200, crossing the finish line in 12:32.96. Victoria Smith and Sierra Smith each added an individual title in field competition. Victoria won the discus with a throw of 99 feet, 5 inches, while Sierra took home gold in the triple jump (34-10).
The Bobcat girls won their second meet title of the season with 142 points, edging out Kaw Valley League foe Piper by a single point. They had 16 total top-five finishes, including three in relay competition.
"I am extremely pleased where were are at at this point in the season," Russell said. "When you are winning meets and scoring in all areas, your team is headed in the right direction."
Bonner Springs finished last in the girls standings. Jonita Francis was the Braves' top individual performance, taking second in the 200-meter dash (27.42) and third in the 100-meter dash (12.4).
The BLHS boys took fourth out of 10 teams with 89 points — 54 behind meet champion Piper. The 4x800-meter relay team of Sean Potter, Garrett Cook, Luke McGowan and Tanner Tavis won the team's only event title with a time of 8:52.47, beating runner-up Bonner Springs by more than 20 seconds.
The Bobcats didn't have any individual champions, but combined for six top-five finishes. They were particularly strong in the pole vault, where Connor Smith, Jacob Hicklin and Chet Sarlls took second, third and fifth, respectively.
"The boys team is young and scoring well," Russell said. "With 95 points at home, we have athletes scoring in all areas."
BSHS finished second behind Piper with 117 points. Austin Schuler and Kyle Dumler led the way with a pair of top-two finishes each. Schuler won the 800-meter run (2:07.36) and took second in the 1,600 (4:45.96), while Dumler won the shot put (50-8.5) and took second in the discus (147-5).
BLHS will be back in action today at the Tonganoxie Invitational. The Bobcats and Braves will both have send select athletes to the Kansas Relays this weekend in Lawrence, then both full teams will return to competition April 24 in Bonner Springs.
Girls team results
Basehor-Linwood, 142; 2. Piper, 141; 3. Sumner Academy, 89; 4. Perry-Lecompton, 86; 5. Anderson County, 80; 6. Tonganoxie, 55; 7. Turner, 45; 8. Pleasant Ridge, 34; 9. Bishop Ward, 19; 10. Bonner Springs, 14.
Boys team results
Piper, 143; 2. Bonner Springs, 117; 3. Tonganoxie, 97; 4. Basehor-Linwood, 95; 5. Perry-Lecompton, 89; 6. Turner, 56; 7. Pleasant Ridge, 40; 8. Bishop Ward, 36; 9. Sumner Academy, 36; 10. Anderson County, 12.