Bats silent at
BLHS

softball splits with Piper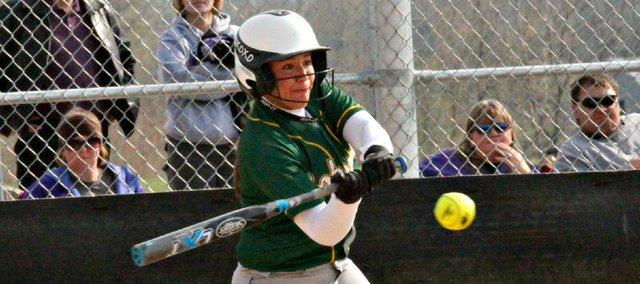 The Basehor-Linwood softball team started the 2014 season red hot, averaging nearly 12 runs per game in its first eight contests. Thursday against Piper, though, the Bobcat offense was nowhere to be found.
BLHS managed just two runs on 13 hits in a two-game split with the Pirates — a potential regional opponent — at home. Coach Susan Mayberry's squad won the first game, 2-0, then dropped the nightcap by the same score, suffering its first Kaw Valley League loss of the season.
The first game quickly evolved into a pitcher's dual, as Piper's Abby Henry and Basehor-Linwood's Madison McDowell each opened with four scoreless innings. BLHS managed just three hits in the first four frames, and only two runners advanced past first base.
"Our kids are capable of hitting, but we've got to start off in those first three or four innings by putting the ball in play and capitalizing," Mayberry said. "You'll never convince me that nine kids can go into a hitting slump."
The Bobcats got a chance in the fifth when Asia Larsen and Gaby Brown singled, bringing Kayleigh Schoenfelder to the plate. The senior second baseman delivered, knocking a two-run single into right field.
"We came up with a key hit, but we just need to be more consistent with our bats," Mayberry said.
The Pirates rallied in the top of the seventh, getting two runners in scoring position with one out, but McDowell forced two groundouts to end the threat and cap off a complete-game shutout.
McDowell gave up just four hits in the win — all of them singles — while striking out two and walking one. She also had the team's only multi-hit game, going a perfect 3-for-3.
The second game got off to a nearly identical start, as Henry and Larsen mowed down opposing hitters for five frames. This time, though, Piper came up with a big hit late in the game. After Ashley King reached on an error by shortstop Candice Jennings, Brooklyn Laveitzen blasted a two-run home run to center field.
The home run came one pitch after BLHS first baseman Allison Kasick barely missed catching a foul ball by Laveitzen near the home dugout.
Kasick hit a one-out double in the bottom inning, giving her team a chance to answer, but Henry retired the next five hitters to end the game.
Larsen suffered the loss in the circle, but allowed just five hits in seven innings. She struck out three hitters walked none.
BLHS has lost three of its last four games since opening the season 8-0. It was swept in a non-league doubleheader April 11 at Silver Lake, 6-5 and 6-4. Mayberry said the Bobcats had the lead in the seventh inning of the first game, but allowed the Eagles to tie the game and win it in eight.
"Hopefully, it's a matter of getting it out of our systems and moving on to next week," Mayberry said. "It's definitely disappointing, but we're still in the driver's seat and we've still got things to accomplish."
Regional implications will again be in play Monday when the Bobcats welcome Atchison to town for a twin bill. First pitch is set for 3:30 p.m.
Game 1
PHS 000 000 0 — 0
BLHS 000 020 X — 2
Leading hitters: Madison McDowell 3-3; Kayleigh Schoenfelder 1-3, 2 RBI.
Game 2
PHS 000 002 0 — 2
BLHS 000 000 0 — 0
Leading hitters: Allison Kasick 2-3, 2B; Gaby Brown 2-3, 2B.