Phippen to wrestle with Pan Am team in Brazil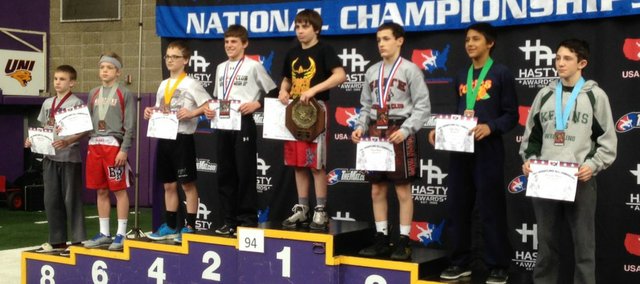 Several months remain before Cody Phippen's first high school wrestling season, but his resume already rivals those of most athletes twice his age. The Basehor-Linwood eighth-grader recently got his hand raised as the nation's best, and he'll soon get to showcase his talents across international borders.
Last month, Phippen was selected to join the Pan American Cadet men's freestyle team, which is comprised of just 13 wrestlers from across the U.S. He'll take part in his first international competition when the team travels to the 2014 FILA Cadet Pan American Championships, which begin April 29 in São Paulo, Brazil. The tournament will feature the top freestyle and Greco-Roman style wrestlers from across North, Central and South America.
Phippen was an alternate on the team at 42 kilograms (92.5 pounds), but received a starting spot when former starter Van Schmidt of Peachtree City, Ga., suffered an injury. Phippen learned of the switch when he and fellow BLMS eighth-grader Johnny Trowbridge were training at the U.S. Olympic Complex in late March in Colorado Springs, Colo.
A year-round wrestler who regularly competes across the country, Phippen will enter the Pan Am tournament as a two-time national champion. He won a 94-pound national title at the USA Wrestling Cliff Keen Junior and Cadet Folkstyle Nationals on April 5 in Cedar Falls, Iowa. Phippen won gold with a 6-3 victory against Michael Millage of Cresco, Iowa, in the championship match. He also won a title at the same tournament in 2011.
By finishing in the top eight of his weight class, Phippen earned the 17th All-America nod of his career. He's racked up six All-America recognitions in freestyle, six in Greco-Roman and five in folkstyle.
Basehor-Linwood freshman Corbin Nirschl, who completed a 31-0 season with a 106-pound state title in March, was also named an All-American after finishing seventh at the national meet. Trowbridge just missed the cut, falling one win short of a spot the seventh-place match. While Phippen is competing in São Paulo, Nirschl and Trowbridge will compete in the freestyle and Greco-Roman state championships on May 5 in Hutchinson.
All three wrestlers were featured in a Sentinel story last summer when they each won triple crown youth state titles.
Phippen has received plenty of help from friends and family in funding his upcoming trip to Brazil, which his father, BLHS assistant coach Travis Phippen, said will cost more than $2,000. Travis and his wife, Kelli, set up a fundraising web page, which had accumulated $2,665 in donations as of Friday afternoon.
After the Pan Am tournament, Phippen will begin preparation for the ASICS FILA Cadet and University Championships, set for May 22 in Akron, Ohio. The meet could produce another opportunity to compete overseas, as winners will qualify to wrestling in the Cadet World Championships in June in Snina, Slovakia.