BLHS

softball sweeps Atchison on senior night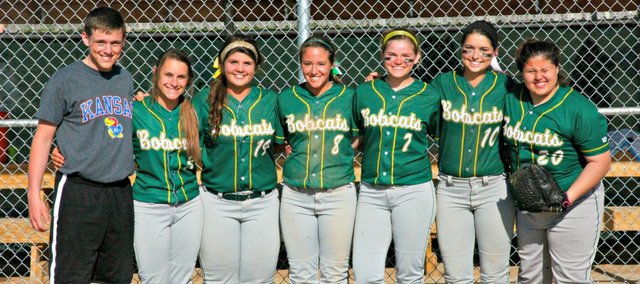 Candice Jennings wasn't interested in losing her final home game in a Basehor-Linwood uniform.
When Jennings stepped up to bat in the fifth inning, her Bobcat squad trailed Atchison in game two of Tuesday's doubleheader, 2-1. The Neosho County Community College signee smacked a two-run double, scoring Kayleigh Schoenfelder and Kali Jacobson to give BLHS all the offense it needed for a 3-2 victory.
After tagging AHS starter Brittany Ettleman for 12 runs in a12-2, game-one victory, the Bobcats (11-3) struggled to produce offense in the first four innings of the nightcap. That ended in the fifth inning when Jenna Donnelly led off with a double — her third of the game — and scored on a double by Gaby Brown. Schoenfelder then walked and Jacobson reached on an error, setting the stage for Jennings' go-ahead knock.
"Honestly, (Ettleman) wasn't doing anything different," Jennings said of the Atchison pitcher's game-two performance. "I knew we were down and I wasn't going to let us lose on our last game."
Atchison struck first with single runs in the first and third innings, but Bobcat starter Asia Larsen found her groove midway through the contest and faced the minimum over the last four frames. The only AHS base runner during that stretch came on a fourth-inning walk, but the Bobcat the runner was later doubled off.
Larsen struck out the No. 8 and 9 hitters to end the seventh, leaving leadoff hitter Payton Nigus — two had two hits and scored both AHS runs — in the on-deck circle.
"That was huge because the top of their lineup is dangerous," coach Susan Mayberry said. "She really moved the ball effectively. She was in command of her pitches and really went after them."
Larsen gave up five hits, struck out six and walked just one in seven innings of work. Donnelly had the Bobcats' only multi-hit game, going a perfect 3-for-3 with three doubles.
The opener lacked any late-inning drama, as Mayberry's squad jumped out to a 10-1 lead after three innings. After spotting Atchison a run in the first inning, Brown drove in two and Jacobson one in the second. The floodgates opened in a seven-run third, in which the first seven Bobcats reached base safely. BLHS had just three hits in the frame, but took advantage of four Atchison errors.
Katie Lackner made it a 10-run game when she scored on a wild pitch in the fourth. AHS briefly avoided a mercy-rule defeat when Nigus scored in the top of the fifth, but Allison Kasick singled home Jennings to end the game in the bottom of the inning.
Madison McDowell got the win in the circle, striking out three and walking none in a three-hit outing. Brown led the way at the plate, going 3-for-3 with two doubles and three runs batted in.
Seven Bobcat seniors were recognized in a senior night ceremony in between games. Jennings, Lackner, Kasick, Schoenfelder, Carissa Mikesic, Tori Bejarano and manager Reese McDowell each had speeches read and received ceremonial pitches from their parents.
"I'm really proud of the senior class," Mayberry said. "We all have to learn to make it work when we have so many veterans. Sometimes that can get a little tricky, but they do a good job."
Several Bobcat softball alumni ranging from the classes of 2002 to 2012 were also recognized between contests.
Tuesday's games were the Bobcats' last on their home field, but they'll host a regional tournament in May at the Field of Dreams complex. BLHS has now faced its entire regional field, which also includes Piper and Tonganoxie. It went a combined 5-1 against those teams, it's lone loss coming in a 2-0 decision against the Pirates.
The Bobcats will have six more contests before regional play, starting with a twin bill today at Kaw Valley League opponent Bishop Ward. Other stops include Bonner Springs on May 1 and Lansing on May 8.
"These next six games, we've got to keep our heads in it and realize they can back and bite us in the butt if we don't," Jennings said. "We've got to keep hitting and pushing through."
Game 1
AHS 100 01 — 2
BLHS 037 11 — 12
Game 2
AHS 101 000 0 — 2
BLHS 000 030 X — 3