Basehor-Linwood High School 2014 scholarships announced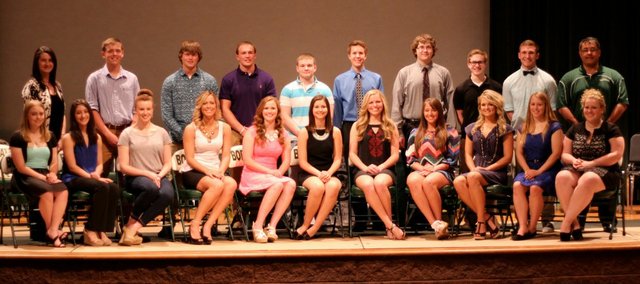 Students and their families gathered at the Basehor-Linwood High School auditorium Wednesday night to celebrate the academic and extra-cirricular success of students awarded scholarships in this year's Acadamic Awards night.
Seventy scholarships from various local organizations were given to students Wednesday night. One of the newest scholarships awarded was the Jobs for America's Graduates (JAG) program scholarship. The JAG program teaches students professional, life and academic skills. BLHS is one of 25 schools in the state that initiated JAG programs this year. The group of schools represented the biggest statewide startup in the country.
Below is a list of all the scholarships and their recipients:
A.B.L.E. Scholarship, $1,000: Hailey Robinson, Abraham Ruffcorn, Jefferson Storms
Alpha Delta Kappa Scholarship, $700: Chloe Freemire, Chase Ryder
Basehor Chamber of Commerce, $500: Jessica Budy
Basehor Lions Club Scholarship, $700: Rachel Eberth, Otto Metzger
BLHS Booster Club Scholarship, $500: Alexander Coleman, Cory McCleary, Kayleigh Schoenfelder;
BLMS Booster Club Scholarship, $500: Reese McDowell, Jacob Phillips
Basehor-Linwood Education Foundation Scholarship, $500: Avery Fliger, Angelina Harrison, Jack McCraney, Reese McDowell, Courtney Payne, Sara Rehm, Stephan Struzzo, Shelby Wicker; $1000: Alexander Coleman, Emily Dye, Kathleen Eberth, Amber Garver, Allison Heinen, Rachel Kamm, Cory McCleary, Jacob Phillips, Eric Purrington, Kayleigh Schoenfelder, Katie Tindell; $500 for technical school: Anthony Drury, Jacob Merrick
DLR Group Scholarship In honor of Eric Dove, $500: Jacob Zamora
Bittel Family Scholarship for Math and Science, $500: Mark Vitt
BLHS Student Council Scholarship, $500: Nick Genz
Care Cats/Youth Friends Corps & National Points of Light Foundation, $500: Tyler Carey, Rachel Savner, Glynis Castaneda, Johnathan Fulkerson, Haleigh Linden, Carissa Mikesic, Emily Powell
Community National Bank Scholarship, $300: Allison Crist, Otto Metzger, Tanner Tavis
Easton Bus Company Scholarship, $500: Erin Krueger-Foster
Faye Carney Gehl Scholarship, $10,000: Announced at graduation
First State Bank & Trust Scholarship, $750: Matthew Higgins, Carter Kleoppel
Joshua Gaffney Memorial Scholarship, $500: Jessica Budy, Sean Potter
Gold Pride Scholarship, $500: Gage Wiser
PRIDE Scholarship, $500: Anthony Drury
Youth Pride Scholarship, $500: Rachel Eberth, Matthew Higgins; $220: Kyle Foster
Linwood Lions Club Scholarship, $1,600: Angelina Harrison, Cory McCleary
Lou Haney Memorial Scholarship, $1,000: Courtney Payne
Union Bank & Trust Scholarship, $750: Bret Fritz
Ward L. Kiester Memorial Scholarship, $700: Clayton Kaminski
Irene Neis Kiester Memorial Scholarship, $700: Sean Potter
Ward L. Kiester II Memorial Scholarship, $600: Hayley Newlin
New Century Club Scholarship, $500: Makayla Weiser
BLHS Outstanding Endeavor Award, $1,200: Natalie Engler
Henri Masonic Lodge #190 Scholarship, $500: Johnny Hopper
JAG Scholarship, $500: Kyle Foster, Zach Hamel, Johnny Hopper, Alex Van Erem, Eli Vinson
Linwood Elementary School Alumni Scholarship, $250: Nicole Kneebone