Bonner Springs perfect site for optometrists' expansion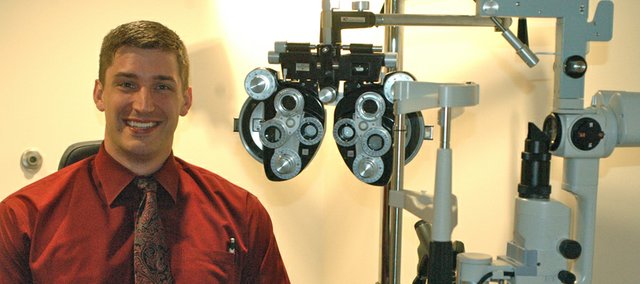 When the Family EyeCare Center in Leavenworth was looking to expand, it didn't take long to determine Bonner Springs would be the best spot for their new office.
Optometrist Jonathan Reddell, who will be leading the Bonner location, said it had all the practice hoped to find in order to serve the Basehor, Bonner Springs, Edwardsville and Piper area, near one of the busiest thoroughfares in the state.
"The timing was right and it was just a really good opportunity to add a second location," Reddell said.
The Bonner Springs location opened April 1 at 13047 Kansas Ave., just south of Nuts and Bolts, about 20 years after Mark Norris and Kyle Kelly started the practice in Leavenworth. Reddell said the practice offers the comprehensive eye exams and services like screening for macular degeneration and glaucoma that one would expect to find at an optometrist, but the practice tries to distinguish itself with customer service.
"Our whole mission statement is based on customer service, so we really work to put the patient first and meet their needs and take good care of the patient," he said. "We also try to stay innovative and make sure we're up to date with all of the medical technology available."
As a larger practice with several doctors, Reddell said they think they have a lot to offer eye patients in the area with technology and different specializations.
"Between the two offices, we have just about every piece of medical equipment you can have as an eye doctor," Reddell said. "We have all the most advanced testing, all the laser scanning and the new technology that uses sensors to determine how the eyes and the brain are working together."
Reddell's special interests include geriatric and low vision, primary eye care, contact lenses, eye injuries and diseases, including glaucoma management. He often visits nursing homes and care facilities to perform comprehensive eye health examinations on site.
A Georgia native, he became an optometrist after playing basketball while earning a business degree at Berry College in Rome, Ga. When he couldn't decide what he wanted to do after college, he found his interest in optometry after shadowing a family friend who was an optometrist.
He met his wife, Ashley Reddell, a native of Haysville, Kan., at the Southern College of Optometry in Memphis, Tenn. Her youngest brother had serious vision problems, so she decided at an early age that she would become an optometrist and is now a pediatric specialist in vision therapy.
The couple found the Family EyeCare Center when they were looking for a practice who wanted to add vision therapy. Ashley Reddell joined the practice in 2010, and Jonathan Reddell joined a year later.
With so many doctors on staff, Jonathan Reddell said expanding to a second location was natural. Reddell will serve as the staff optometrist in Bonner Springs on Monday, Tuesday and Thursday, while Ashley Reddell will be in the office Wednesdays, and Norris, Kelly and Matthew Siemer will provide Friday and Saturday hours.
Jonathan Reddell said he and Ashley are hoping to get involved in the Bonner Springs community. Jonathan Reddell has joined the Bonner Springs Rotary Club, and they have started attending the Bonner Springs United Methodist Church.
"We're just excited to get involved and be here," Jonathan Reddell said.
The Family EyeCare Center can be reached at 913-535-4036, or find more information at familyeyecarecenterlv.com.