Basehor-Linwood students listen, learn from visiting a cappella group re:Voiced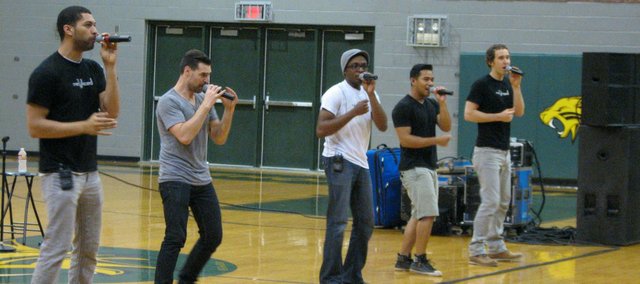 Basehor — Members of the choir class and students of Basehor-Linwood High School got the chance to hear and talk with members of re:Voiced, an award-winning a cappella group, Monday morning as the group prepared for its Monday evening show at the high school.
The five-member group performed a song and answered questions in the gymnasium, where they performed a full concert at 7 p.m. Monday.
Students asked the singers where they came from, how they met and how they developed into the artists they are. Re:Voiced has performed with Maroon 5, Rascal Flatts, Ben Folds, Chubby Checker and Ludacris and has appeared on NBC's "The Sing Off."
The group, which is in the middle of a 65-stop Music in Schools tour, also spoke about the importance of the arts in education.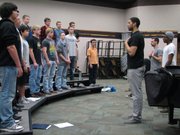 "We all came from great choir programs," Dele Opeifa told the students. Opeifa is a vocalist and vocal percussionist in the group.
"We know how important it is to have arts, and enthusiasm for the arts in schools," he said. "Without the arts, we wouldn't be able to do what we do and what we are passionate about doing."
After the short show in the gymnasium Monday morning, the entire group attended a choir class with choir teacher Wendi Bogard.
Opeifa worked with the young singers on breathing exercises and each of the other members gave the students tips to continue to improve their singing. Chris Rossi, a vocalist in re:Voiced from New York, said the group really enjoys performing for and interacting with high school students.
"It's our way of really being able to give back," Rossi said.
The singers also told the students about their background and how they ended up fulfilling their passions by singing and performing. John Patrick, a vocalist from Nebraska, said that he pursued a career in singing by joining every type of club or class that he could throughout high school and college.
"I did every type of choir that I could," Patrick told the choir students.
Opeifa was a college basketball player but decided to pursue music after his sophomore year in college.
"I got some grief from teammates because of my singing," Opeifa said. "But I did both because I loved both."