Basehor-Linwood High School blood drive brings students out to donate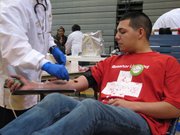 Students in the Health Pathway at Basehor-Linwood High School organized the school's first student blood drive and donated 69 units of blood on Friday to the American Red Cross of Kansas City.
More than 80 students were involved in the project and signed up 90 students to donate blood in advance of Friday's blood drive. Health Pathway science teacher Vickie Herbster said the students in the pathway will now organize a student blood drive every semester. Students in the Health Pathway take classes such as Medical Terminology and Advanced Health.
"The kids have really bought into it, they understand the importance of it," Herbster said.
According to the American Red Cross, more than 41,000 blood donations are needed every day and one pint of blood can save three people. Although an estimated 38% of the U.S. population is eligible to donate, less than 10% actually do each year, according to the American Red Cross.
Anthony Felix, a sophomore at BLHS, became eligible to donate this year after turning 16 years old. Friday's blood drive was his first and he greeted the Red Cross workers with a smile as they prepared his right arm for the blood draw.
"I think it is just a great opportunity to help others," Felix said.
Lindsay Taylor, a BLHS junior, said she was excited to give blood on Friday.
"I just want to give back," Taylor said. "If one pint of blood can save three people, than this is an easy way to be a hero."
The blood drive ran the entire school day Friday in the the Basehor-Linwood gymnasium. Teachers and school administrators also gave blood.