Butch Foster Classic begins Thursday in
KC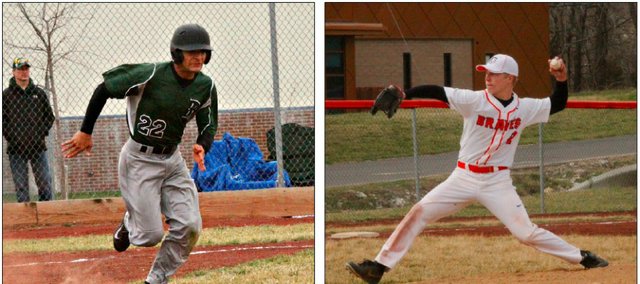 Related document
Beginning Thursday in Kansas City, Kan., eight area baseball teams will have the opportunity to showcase their talents for three games on a semi-pro field. For Basehor-Linwood and Bonner Springs, it will serve as a chance to right the ship with regional play fast approaching.
The Bobcats and Braves are set to compete in the annual Butch Foster Memorial Classic, which begins Thursday at the Kansas City T-Bones' CommunityAmerica Ballpark.
BLHS (6-9) has struggled in recent weeks, dropping three of its last four. Errors played a big role in an 8-3 setback Friday at Bishop Ward, then again in an 18-5 loss Saturday against Tonganoxie. First-year coach Jeff Vestal admitted the lineup should already be set this late in the season, but said this week's tournament will give coaches an opportunity to experiment with various position changes.
"We're actually going the wrong way right now," Vestal said. "I think we're falling apart on defense. Changes will be made. We've got to do it now to see if it's going to work out or not. I'm hoping, after these three games, I'll have my starting nine ready for regionals."
Vestal's squad will open tournament play at 7:30 p.m. Thursday against Frontier League opponent Baldwin. The winner will the winner of Perry-Lecompton and Holton in a championship semifinal at 2:30 p.m. Friday, while the losers will play in consolation at noon Friday.
BSHS (2-10) hasn't tasted victory since an 11-7 win April 8 at Lansing. Since then, the Braves have dropped eight in a row, including back-to-back losses Monday against Mill Valley, 15-2 and 18-2.
Rookie coach Adam Loecker's team used strong pitching to split its first two doubleheaders of the season, but Loecker said opposing bats have since caught up, while his squad has failed to produce at the plate.
"As the season progressed, we kind of fell off," Loecker said. "We really haven't had anything else to back that up. The other aspects of the game haven't really shown through. We just haven't really put seven innings together yet."
Like Basehor-Linwood, the Braves will open against a Frontier League opponent in Paola at noon Thursday. The winner will play the winner of Tonganoxie and Spring Hill at 7:30 p.m. Friday, while the losers will play at 5 p.m. Friday.
The tournament championship game is set for 7:30 p.m. Saturday, but times for the third-, fifth- and seventh-place games won't be announced until the conclusion of Friday's games. Baldwin's prom is Saturday, so the Bulldogs will be given a noon game Saturday unless they advance to the championship game.
There will be a new champion this year, as St. James Academy — the winner of the last three tournaments — is absent from the 2014 field. This will be the first go-around for Vestal, who arrived at BLHS this season after five years at Piper, and the first for Loecker, who took over the BSHS program this year after spending last year as a basketball coach.
"I've heard a lot of good things about this tournament," Vestal said. "I think it's great for the kids to get out there on the T-Bones' field and play."
Updates will be available throughout the tournament at basehorinfo.com and bonnersprings.com.