Leavenworth County Fair welcomes local horse owners and riders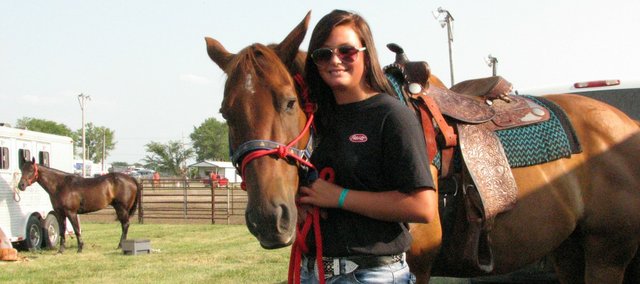 Tonganoxie — Earl may be past his prime, but Abby Zule found something special in her 15-year-old horse last year and was able to put it on display at this year's Leavenworth County Fair.
Earl is good at barrel racing, something that surprised Zule when she decided to train him for the event last year.
"He was kind of scared at first," Zule, 13, said. "But I got him practicing and he did great."
Zule, a student at Tonganoxie High School, said she wanted to see if one of her family's nine horses could do barrel racing, and Earl was the clear favorite.
In Zule's first official race with Earl last year at the Leavenworth County fair grounds, he unofficially finished in second place with a time of 19 seconds. His time was disqualified however, after he took a wide turn and went around a barrel rather than through two of the final barrels.
"We're both still learning, but he has done great," Zule said.
The Leavenworth County Fair held its first horse show in nine years Thursday night at the fairgrounds, and Zule ran Earl in the barrel races and four other events. Katherine Shade, the organizer of this year's horse show, said the return of the horse show was due to popular demand and provided the chance for local horse owners to show off their animals.
"We have horses in this that have never been in a show," Shade said. "A lot of it is just to come out and show the horses in front of friends and the local community."
Shade she expected about 50 horses to participate in the long list of events. Spectators gathered on three sets of bleachers to watch the shows. As Zule prepared Earl for his events, she said it was "great" that the fair was again providing the chance for local horses to compete in events that they might normally not enter.