Face to Face: Basehor Country Place Senior Living's Ginny Cross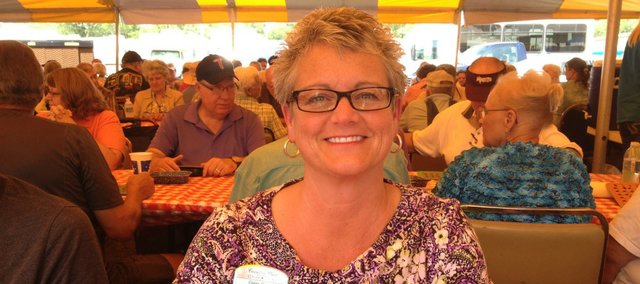 Name: Ginny Cross
Born: Santa Clara, California.
Family: Husband John, and son Alexander, 23. Two male labradors Gunner and Duke and a rescued male Chow mix named Bear.
Occupation: Director of Assisted Living at Country Place Senior Living of Basehor, which opened in September 2013.
Dream job as child: Cross always thought she would be a social worker because she enjoyed helping others and "solving" their problems.
"If they didn't have a problem I would find one and solve it," Cross said.
Digging deeper: Cross has lived in four states and Germany as the wife of an Army recruiter.
In Northern California in 1988, Cross met her husband while he was recruiting for the Army.
"We love to share the story that he attempted to recruit me but I wanted nothing to do with joining the military so he gave up on that idea and asked me for a date instead," Cross said.
The couple have since spent 26 years of John's 32 years of active duty service moving and resettling before he retired in February 2013. Cross has lived in Kansas, Texas, Hawaii and California and even lived in Germany. Cross and her family have been through seven moves, nine houses, four states and two countries.
"(It) is not for every spouse, but I have enjoyed traveling to our duty stations," Cross said. "Such moving does not allow for longevity in employment but I have been able to work as a director in each of the states we were in."
Cross, now the director of assisted living at Country Place Senior Living of Basehor, attributes her success to her passion for products that she believes in. Cross is also an active member of the Basehor Chamber of Commerce.