Basehor Awards and Trophies celebrates 10 years in business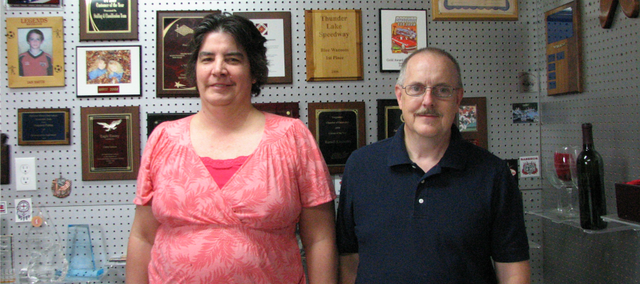 Basehor — James Smith inherited his entrepreneurial spirit.
He said his father hated working for someone else and he, along with the rest of the family, grew up with an entrepreneurial type of mind.
"It was in our blood to want to be successful on our own merits," Smith said.
Ten years ago, Smith found his calling when he and his wife Laura opened Basehor Awards and Trophies off 153rd Street in Basehor. He said he was speaking with his son's tae kwon do instructor back then about the difference in size of trophies for different fights. The instructor, Smith said, was complaining about how the trophy for a much harder fight was smaller than some of the easier fights.
Holding the small trophy, Smith said, he looked at how it was put together and his woodworking experience started to get the wheels in his mind turning.
"I thought, 'You know, I can do this,'" Smith said. "It was also an excuse to use my hands."
Soon enough, he turned the attached garage to the Smiths' family home into the workshop and office for Basehor Awards and Trophies, 18501 153rd St. Laura, who works full time in Kansas City, Mo., helps with the business' accounting, taxes and other financials. James Smith calls her the "real brains" behind the operation.
The Smiths say business has grown every year since they began, and they have served people all over the country. Basehor Awards and Trophies is an official partner with Boy Scouts of America and produces plaques and trophies for Scouts from Alabama to New Hampshire. THe Smiths' sons Ian and Alec are Eagle Scouts, and James Smith has held numerous positions in the troop while Laura has served as Treasurer and a Committee Member both for the Cub Scout pack and the Boy Scout troop.
Customers can also send in custom orders to the Smiths through their website, basehorawards.com.
James Smith said that not only has business grown over the 10 years, but his projects have also become more adventurous. Recently, he custom engraved a sword. He has also custom engraved parts of guns and car and motorcycle parts.
Smith can customize almost any type of plaque, he said, and can do laser engravings, rotary graphics, vinyl graphics and sublimation of images onto things like iPad cases and phone cases. Smith has done many custom engravings on wine glasses and other unique items for celebrations like weddings, birthdays and anniversaries.
To commemorate the business's 10th anniversary, the Basehor Chamber of Commerce will be celebrate the Smiths on Aug. 21 at the Basehor Community Library.