A new tradition: Haunted house preview becoming Tiblow Days staple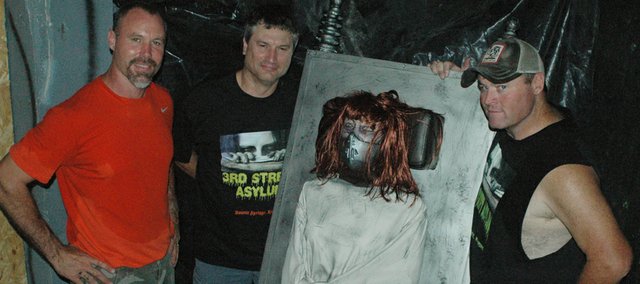 Bonner Springs' annual Tiblow Days festival is known for its parade, carnival rides, concerts … and now, ghosts.
Tiblow Days is taking on a decidedly Halloween-ish feel thanks to a Saturday night event now in its third year: a preview of Bonner's own haunted house attraction, the Third Street Asylum. Ready to begin it's fifth season of operation in October, the owners say they are planning to live up to the "Best Haunted House in Kansas City" ranking they received last season.
As they prepare for the sneak peek, 8 p.m. to midnight on Aug. 23, Third Street Asylum owners JMS Entertainment, Mike Clouse and brothers Jerry and Steve Hoffine, say that business has grown in some amazing ways.
Growing fear
Each year, the amount of space the haunted house occupies in the city's 1918 Building has expanded. With three new rooms this year, they now have taken up a majority of the bottom three floors. The only place remaining is the fourth floor, and using that space would require a major increase in attendance.
And attendance has increased in large numbers every year. As it gets closer to Halloween, the wait to take the 15- to 20-minute walk through the haunted house can be as long as two hours.
The Pitch, an entertainment magazine covering Kansas City, sent several undercover reporters to go through the haunted house last year and in mid-October named them the Critic's Choice Best Haunted House in its Best of KC contest.
The operators have also heard good things from those who operate the haunted houses in Kansas City, Mo.
"I think some of our greatest compliments is we've had the guys that work there, the Edge of Hell, the Beast and all that, come in, go through as a patron… they will just tell us what a great job we've done, how awesome it is," Clouse said. "It's always good to hear that from your competitors."
They say their success has come from a good mix of animatronics, pneumatic tools and their actors — there are generally 30 to 32 actors on hand each night to give the customers a scare. Steve Hoffine said they also try to address each of the senses to enhance fear, even smell, using pumped-in fragrances like cotton candy in the crazy clown area or rotting flesh.
An already haunted home
It might be a little easier to make the asylum scary, as the owners believe the 1918 Building was haunted to begin with.
The building, formerly Bonner Springs High School, was built on the site of a cemetery, where reportedly, not all of the bodies were removed.
This is excellent fodder for those who believe in ghosts, which includes Jerry Hoffine and Clouse, who are among the many employees who have heard mysterious footsteps or seen a strange shadow. Steve Hoffine is more of a skeptic, but even he said he has had some spooky experiences in the building.
Paranormal activity research groups have investigated the building three times and caught a few voices in recordings. A medium visited the building and even identified two ghosts: the "coal" man, a mean spirit in the basement who is blamed for causing electronics to go off or doors to slam; and a nicer "nurse" spirit, who resides on the top floor.
Spreading the word
JMS Entertainment completed the first four-year agreement with the city for use of the building and now has signed an agreement for an additional five years.
But as they head into the future, they say they still have trouble spreading awareness of the haunted house.
"That's the biggest challenge we have is just getting our name out," Steve Hoffine said. "As much as we put into marketing and advertising, it's amazing how many people we talk to don't know we exist, even in our hometown."
With most customers coming from the Kansas side of the Kansas City metro area, they say they are starting to see some from across the state line. Advertising efforts in Lawrence also finally seem to be paying off.
"We're just now starting to see a little bit of traffic from up there, the college kids," Clouse said. "It's so funny to be this close to them and they don't even know we're here."
People who go through the haunted house are generally the best advertisers, though, because no matter how big they talk while in line, they are often reduced to a quivering mass within the first few minutes. There have been groups who even turned around and left after the first room or two.
"We want people to go through, we want them to have a good time," Steve Hoffine said. "They paid for their tickets; we want them to enjoy it and spread the word. But some times they just can't make it. A lot of times we'll have our security people walk groups through to make sure they get through, because they're just too scared to go."
And the Tiblow Days preview has proven to be a good way to get people ready for the regular October season — last year attendance increase by 50 percent. Asylum actors will once again take part in the Tiblow Days parade and hand out coupons to promote the preview night and regular season.
The regular season begins Friday and Saturday nights, Oct. 3 to Nov. 1. More information can be found at 3rdstreetasylum.com.