New Basehor salon aims to serve moms on the go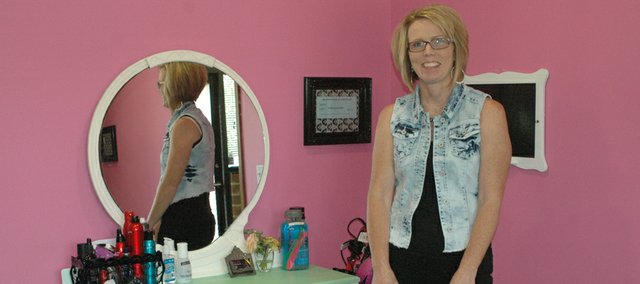 One local woman says she has found the perfect location for a new, "hometown" hair salon.
On Aug. 6, Marcie Hammett opened Bladez, 14500 Parallel Parkway, Basehor, hoping the spot's location will help get her name out in the community and help people feel comfortable while still receiving the salon experience.
"I call it a small, hometown salon," she said. "I just want people to get a hometown feeling, you know; no pressure."
Hammett is a Bonner Springs High School graduate and now lives in the portion of Bonner Springs in Leavenworth County, so her two daughters attend Glenwood Ridge Elementary School in the Basehor-Linwood school district.
Hammett has been professionally cutting hair and doing manicures and pedicures for 12 years, most recently at a salon in Mission. With her children now both in school full-time, Hammett said she decided she had the time to dedicate to having her own space — and she wanted that space to be close to home.
She found that spot in the strip center on Parallel Parkway, which was even more attractive because of its neighbors. She hopes it can be a convenience for both her and her clients.
"The right spot came open next to Sarah's Dance here, so I'm hoping to meet a lot of dance moms," she said. "There's a preschool opening this fall also in this little strip mall … I think that will bring in a lot of business, too. I feel like I am in a good spot."
Hammett offers all the typical hairstyling services, from cuts to highlights, manicures, pedicures and waxing. She offers both daytime and evening appointments and is offering a discount for new customers on their first service.
Hammett also has room for two more stylists in the salon through a booth rental. She can be contacted at 913-488-0206.