Growing heirlooms: Bonner farm provides produce for families, restaurants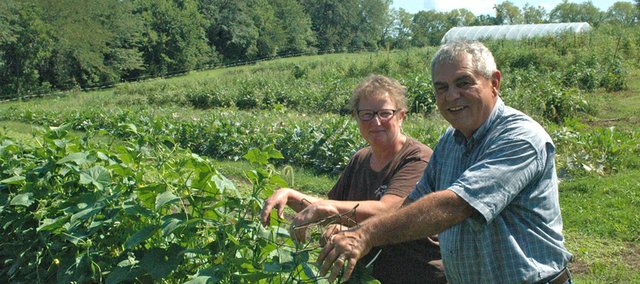 Looking out over 19 rows of vegetable crops, each 200 to 250 feet long and 6 feet wide, Jim and Deb Crum reflect on how it all got started.
"(Jim) had always said that in his retirement, he just wanted to grow tomatoes," Deb Crum said.
"The fatal mistake," Jim added, laughing.
That's because the Crum's Heirlooms 10-acre farm in rural Bonner Springs grows much more than their 37 varieties of tomatoes, the crop for which they are best known. There's also asparagus, Brussels sprouts, cucumber, eggplant, herbs, kale, onions, potatoes, rhubarb, summer and winter squash, okra and more.
About 13 years since they started, Crum's Heirlooms now is not only providing fresh-from-the-farm produce for local families, it is a supplier for several Kansas City restaurants.
Getting a start
The Crums are Kansas City, Kan., natives and said they were long-time gardeners at their home near 81st Street and State Avenue.
But their hobby grew into what it is today because of Chris and Ray Bush of Bush Farm in Bonner Springs and Edwardsville, who the Crums say were their mentors.
"We had always gardened," Deb said. "I had bought some heirloom tomato seeds and did some research and found out that if you plant an heirloom tomato's seeds, you will get an heirloom tomato, where if you did that with a hybrid, you don't know what you'll get."
So Deb saved some seeds and talked Chris Bush into planting them, and they grew in abundance. That was motivation enough; the Bushes taught the Crums how to grow from seeds in a greenhouse and then transplant to fields.
The first year, they filled their backyard and used a small plot at Bush Farm, selling the plants themselves. The next year, they began selling tomatoes at the Parkville Farmer's Market and learned from their son, who was a chef in Minnesota, that restaurants would love to buy the heirloom tomatoes.
"We actually took 300 pounds of those to Minnesota to sell, and of course they went over really well there," Deb said.
They continued on, every year using a little bit more land at Bush Farm, but nine years ago, after four years with Bush Farm, the commute to care for the crops became a bit much.
"I was going out there, like, twice a day," Deb said. "So we just decided that if we were going to do this, we're going to have to (live) where we grow, because it's just too hard otherwise."
Their search for land led them to their property on Stillwell Road west of 158th Street.
Selling the bounty
Crum's Heirlooms sells its produce in three ways.
They still go to the Parkville Farmer's Market and now the Lawrence Farmer's Market, as well, on Saturdays. There they also sell their own salsa, ketchup and dried, smoked peppers.
They also provide a Community Supported Agriculture subscription. On Mondays, they deliver to 54 different subscribing families, mostly in western Shawnee and Bonner Springs. Seven come to the farm to get their produce, while 14 pick theirs up at the Parkville market.
"That's about the maximum we can do, but I like it, and I like the families," Deb said. "I was afraid that there wouldn't be much interaction between us."
But they develop a relationship with their subscribers, inviting them to brunch at the farm in May and a potluck dinner in September.
"Plus they can come out and volunteer whenever they like to do various jobs, and we have maybe three or four that do that," Deb said.
But the majority of their sales are to restaurants. They sell produce to about 15 restaurants, all independently owned, and all in Kansas City, Mo., except for two in Leawood.
"We really only deal with people we like and who we feel do a good job," Jim said.
A family affair
While it's just Jim, Deb and their dog on the farm, the business requires the help of each of their three sons.
"It is very much a family farm," Deb said. "Each one of our sons contributes, and their wives, and we wouldn't be able to do this on our own."
Their son who is a chef — and now lives in the area once again — helped them develop relationships with the restaurants they sell to because he started his career here.
Their eldest son grows all of the herbs, and their daughter-in-law manages the CSA subscriptions.
"They all three do manual labor, too; when we put the tomatoes in or when we put the onions in, they all come and plant," Deb said.
It's a good thing, as finding farm laborers seems to be getting more difficult. And while they aren't certified organic, the Crums use organic growing practices, which they say means a constant fight against weeds.
But their love for growing the crops keeps them going. This year has been a bit harder with rain and cool temperatures stilting their tomato crops so far; they hope the heat that is settling in this week will give the tomatoes a boost, or "get them going," as Deb says.
"When they're going, it's so much fun," she said.
Crum's Heirlooms can be found online at crumsheirloomskc.com or facebook.com/Crums-Heirlooms.