Bacon tasting new feature of
KC

Renaissance Festival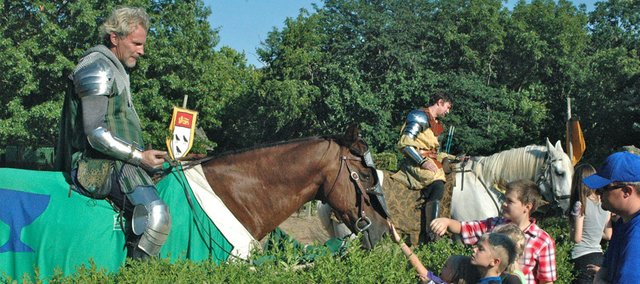 It's about time that bacon has become a featured element of the Renaissance Festival.
After all, unlike turkey legs, bacon actually existed in medieval Europe.
Theme weekends schedule and special events
• Pirates Ale Fest, Aug. 30-Sept. 1: Tattoo competition, pirate games and contests, Best Beard Competition, craft beer tastings
• Shamrocks & Shenanigans, Sept. 6-7: Celtic Village, Halfway to St. Paddy's Day Party, biker weekend, Celtic Games, fencing competition, Steampunk costume contest, Magic the Gathering Tournament (Sept. 6), College Weekend
• Pet Fest, Sept. 13-14: Pet vendors, demonstrations, contests and costume contest; Dachshund Races, Longbow Archery Championship, eating contest
• Highland Fling, Sept. 20-21: Highland Games Championship, Scottish Village, Bagpiping Competition
• Wine, Chocolate & Romance, Sept. 27-28: Chocolate Festival, Cupcake Battle, Wedding of the Century (Sept. 27), vow renewals, Grape Stomp
• Wonders of the World, Oct. 4-5: Fantasy Mask Competition, Belly Dance lessons, performances and competition, Fairy Festival, Latin dance lessons, world trivia
• Oktoberfest, Oct. 11-12: Farmer's Market, Trick-or-Treating, arm wrestling, Fairy House auction, craft beer tastings
• Harvest Huzzah, Oct. 13: Farmer's Market, Monday Funday, ladies' shopping day, educational program, Military Appreciation Day, Service Industry Day
So the Kansas City Renaissance Festival, which opens its 2014 season this weekend at its grounds in Bonner Springs, is doing the sensible thing and taking advantage of the esteem bacon has earned in pop culture, this year introducing special Bacon and Beer tasting events at 3:30 p.m. each day of the festival.
"We came up with the idea this winter, and we tried it at our festival down in Tampa, Fla., and it was a hit, so we decided to bring it to Kansas City," said Will Peterson, marketing and sales director for the festival.
Peterson said the event, which costs an additional $20 per person, will pair thick-cut, hand-sliced, specialty-flavored bacons with just the right beer: a maple brown sugar bacon with Blue Moon, a chocolate-dipped bacon with Guinness and a jalapeño bacon with Scrimshaw.
Peterson said "lively entertainment" will be provided throughout the tasting, and the beer will be served on a flight paddle that tasters get to take home with them as a souvenir.
But the Renaissance-style tribute to the bacon craze won't be the only new feature at this year's festival. There will also be the festival's first-ever sit-down restaurant, The White Stag Inn, which will be open from 11 a.m. to 3 p.m.
"It's one thing that a lot of festivals and attractions have that we haven't offered," Peterson said. "So we thought we would mix it up, provide a place for people to sit down in the shade and get a slightly more high-class meal without breaking the bank."
Simplifying things is the price: All menu items are $10 including unlimited soda or water, whether it's the Gaston's Guinness Beef Stew or the Chick'n & Waffles (with spicy Sriracha maple syrup, no less).
A few other things to look out for among the usual jousting, royal parades and fairies:
• The Imagination Station for children will transform them into a pirate or princess for $5, complete with makeup or face paint, hair styling, and an eyepatch and hat for pirates or a tiara and wand for princesses.
• A Royal Tea House will serve hot and cold tea.
• The Mermaid Cove returns for its third year but also includes an art mural competition that anyone may enter for a chance to win $500, and every submission gets two free tickets.
• The "Throne of Swords" returns for a second year with a "more theatrical production."
• Mother Goose will make the rounds so children can visit with her and hear stories.
• More food options, including a vegan booth, gluten-free options and increased vegetarian options. On the less healthy side, new food also will include deep-fried oreos and twinkies and baked sweet potatoes loaded with brown sugar.
The festival runs 10 a.m. to 7 p.m. Saturdays and Sundays this weekend through Columbus Day and will also be open on Labor Day and Columbus Day. For more information, visit kcrenfest.com.