Five great lunch deals in Bonner Springs
So you only have about $10 to spend on lunch, but you don't want fast food? Don't worry; you have options.
Several of Bonner Springs' independent, locally-owned restaurants offer lunch-time deals that help those who are pinching their pennies. The Chieftain visited some of the local dining establishments to find the meals that would give you the best bang for your buck.
1. Almost Famous Tacos, Twisters, 13100 Kansas Ave.
Get the restaurant's popular hard-shell tacos for $1.50 each, not to mention free chips and the restaurant's homemade salsa until 3 p.m. on Tuesdays and Thursdays. Christie Chancey, co-owner, said the restaurant's Mexican options have been its most popular dishes since they were added to the menu.
"That's why we've been here for 10 years," she said.
The tacos have a quarter-pound of beef or chicken and the shell is deep fried. "They're a little bit different from meat just thrown in a shell," Chancey said. "I can't say exactly why it's so good; you just have to try it."
Contact Twisters at 913-422-7800 or twistersgrillandbar.com.
2. Large salad, E.J.'s Coffee Shoppe & Bakery, 128 Oak St.
There's more than coffee and cupcakes going on at this downtown spot. The business offers several low-priced food options, but if you're looking for something on the healthy side, try one of their simple but tasty salads. They use an organic spring mix of lettuces including arugula, chard and baby spinach, and the customer's choice of fresh-cut toppings, including peppers, carrots, mushrooms, cucumbers, tomatoes, celery, onions and bacon or chicken, which is baked and shredded in-house. They also offer a variety of dressings and homemade croutons, all for just $4.
"It's probably, if not the first, then tied for the second-most popular food item we have," says Shadow Billingsley, co-owner.
For those who are really low on dough and don't have a big appetite, a small salad is available for $2.50.
Contact E.J.'s at 913-731-7348.
3. The 2-for-12 Special, Jamz Bar and Grill, 11657 Kaw Drive
If you have a lunch partner or an even number of people, Jamz offers a great Tuesday special for two: two cheeseburgers, two fries and two drinks for $12. The eight-ounce burger patties are handmade in the restaurant.
"I like a good cheeseburger, and I was not happy with frozen patties," owner Janice Barnes explains. "I decided we were just going to have to make them in-house. People love them, so it was a good thing for us."
Jamz also offers great deals on other weekdays, like Thursday's chicken fried steak with homemade mashed potatoes, corn or green beans and a roll for $6.99.
Contact Jamz at 913-441-2900.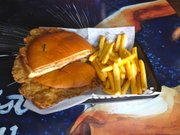 4. "Monster" Pork Tenderloin, Kobi's Bar & Grill, 113 Oak St.
There's a reason this sandwich has been dubbed the monster — the 10-ounce tenderloin patty is so big, it must be cut in two and layered one half on the other to fit in the serving basket. Depending on your appetite, it may be another option that requires a lunch partner.
"Me and my girlfriend can't even eat one between the two of us," Scott Downey, kitchen manager, says.
The tenderloins are specially cut at the Queen's Price Chopper in Bonner, which also makes Kobi's special buns the size of two hamburger buns for the sandwich. But even the doubly-large buns can't contain the tenderoloin patty, which is breaded with Kobi's own mix and served with fries or tater tots and the optional lettuce, tomato and onion for just $8.49 on Tuesdays. Split two ways, it's a cheap lunch.
If you're dining alone during the winter months, you might want to try the week-long lunch deal of Kobi's homemade chili and grilled cheese for just $5.49.
Contact Kobi's at 913-422-5657 or kobisbar.com.
5. Combination Special Luncheons, Red Fortune, 117 Oak St.
What would a lunch deal list be without Downtown Bonner's staple lunch spot since 1996. The Chinese restaurant offers 22 lunch combinations for $5.25 or less with a main entree, egg drop soup, fried rice and an egg roll or a crab rangoon. If you don't mind being meat-free, the cheapest entree option is Mixed Chinese Vegetables at just $4.25.
Contact Red Fortune at 913-441-1988.
Honorable mentions: Bonner Springs Pizza Co., 127 Oak St., recently began offering a pizza buffet including a side salad, bread sticks and dessert pizza for $5.99. And there's the famous sandwich at Papa Bob's Bar-B-Que, 11610 Kaw Drive, "The Destroyer." It's $13 for the sandwich with your choice of three barbecue meets totaling one pound, but bring a buddy to split this beast and you can add a side, like fries or a potato salad, for $2.50.