Basehor doesn't need full-time administrator, city council says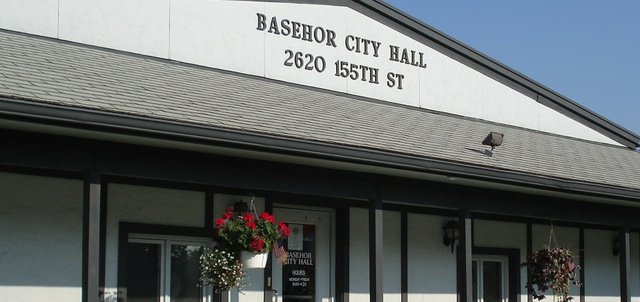 Basehor — After more than two years without a full-time city administrator, Basehor's city council thinks the city doesn't need one, for now.
The Basehor City Council agreed Monday night at their work session that the city doesn't need to pay someone $100,000 to fill the role of a full-time city administrator and will move forward with current Interim City Administrator Lloyd Martley filling the role on a part-time basis indefinitely.
The council was also in consensus that the city "has never run better," as council member Travis Miles said.
"One of the things that has struck me over the last 14 months that I've been on this board is the fact that not only did the administration appear to improve, but the morale increased among employees," said council member Brian Healy. "Why do we need a full-time city administrator if everything that's happening now is going just fine?"
Mayor David Breuer made the recommendation to remove the interim tag from Interim City Administrator Martley's title and name him City Administrator until the city decides the population and economic growth dictates that the city absolutely needs a full-time administrator.
The proposed 2014 budget has allotted $99,000 for a full-time city administrator position, but the city will remove that from the budget pending a final vote at the Feb. 17 city council meeting. The public will be able to comment on the decision at that time.
In the past two years, Basehor has seen record growth, including more than 80 new requests for building permits in 2013.
But Basehor's history with city administrators, Healy said at Monday's meeting, hasn't been the best. Basehor's last city administrator, Mark Loughry, was voted out of the position in 2011 by the council, which has since had four members replaced, over a wage hike dispute.
In 2011, the money the city spent on the city administrator position was more than $135,000. Without a full-time city administrator in 2012 and 2013, the city spent about $30,000 each year on the role filled part-time by Martley.
Martley, under Breuer's recommendation, would continue filling both the city administrator and police chief roles. He will be compensated on a part-time basis for his role as city administrator at about $27,000, Martley said, while also earning about $70,000 as the police chief.
"I'm more than willing to continue in the capacity I've had," Martley said. "I think the city is running very, very well and that's not attributed to just me. That's attributed to our great staff."
Council member Vernon Fields spoke from a law enforcement background Monday, saying that he wanted to make sure that Martley would not be spread too thin and that when Martley needs to be the police chief, he can be an effective police chief.
"At some point in the future, we may need to look at clearly delineating the roles those two positions," Fields said.
The city currently has a long-standing wrongful termination lawsuit against it by a former police officer. The suit alleges, among other things, that the city didn't provide a fair due-process hearing procedure during his firing.
Breuer, when asked if Martley filling both key city roles threatens any checks-and-balances within the city, said he is not concerned that the move would put city employees in a bad position. Breuer said the city hires an independent human resources contractor who would provide a proper option for any complaints to be handled independently.
"That's certainly an avenue that is outside of any internal workings of the city," Breuer said.
In other news at Monday's meeting:
• Martley announced that city municipal court clerk Tracie Dockery was selected by the Kansas Supreme Court to serve on the Municipal Court Clerks Education Committee. Dockery was notified of the honor on Jan. 10 by state Chief Justice Lawton Nuss.