Basehor-Linwood students collecting keys for charity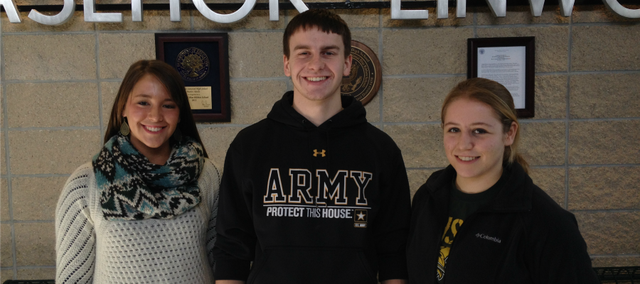 Basehor — Students at Basehor-Linwood High School are turning those extra keys rattling in desk drawers and weighing down key chains into money for Ronald McDonald House Charity.
Students in the BLHS Student Council and the National Honors Society (NHS) are collecting keys through Feb. 14 from the Basehor community to donate to Ronald McDonald House of Kansas City. Keys, particularly brass keys, are valuable recyclables that bring in as much as six-times more money per pound compared to aluminum.
The Basehor-Linwood School District has been collecting keys and pop can tabs the entire school year for the Ronald McDonald House, and classes are even competing to see who can collect the most. BLHS seniors in the NHS and Student Council are now aiming to involve the community.
"If we've been blessed, then we should do what we can to help others," said Katie Eberth, a senior at BLHS.
The Student Council and NHS have placed key collection boxes at several locations around Basehor including Kelley's Grille and Bar and Casey's General Store.
Seniors Kayleigh Schoenfelder and Mark Vitt said the campaign to involve the community started this winter after they were approached by Pleasant Ridge High School sophomore Alyssa Hutchens. Hutchens was reaching out to a number of schools as her 4-H club's leadership project, Schoenfelder said. The Basehor-Linwood school district has been collecting pop tabs for the charity for a long time, but Schoenfelder's said Hutchenss idea to collect keys was an easy additional thing students and parents could do.
"We had started volunteering and collecting tabs before she contacted us, so we just piggybacked on her idea," Schoenfelder said.
The NHS, since October, has been volunteering time to go to the Ronald McDonald House. Once per month, math teacher Alex Verbenec and 10 students have been going to the house to help out wherever possible.
"You can just see how much of an impact being able to stay at that house has on these families," Schoenfelder said.
The Ronald McDonald House of Kansas City, Mo., recently broke ground on an additional $4.5 million, 21,000-square-foot house in Kansas City near its current location at 2502 Cherry St.
Ronald McDonald Houses in Kansas City, according to Ronald McDonald House Charities, provided 2,108 overnight stays to families in the two current Ronald McDonald Houses in 2012. The houses turned away 1,072 families because there weren't enough rooms. They helped families with children receiving care from 25 different states in 12 Kansas City area medical facilities.
"I've learned a lot about their organization through this process," Vitt said. "It's really great to be able to contribute."
Student Council and the NHS will conclude their community fundraiser at the Valentine's Day home basketball game, where they will have a large donation box for people to bring in their keys. The donation boxes around Basehor will also be collected Feb. 14.
Students in the Basehor-Linwood school district will continue to collect pop tabs and keys through the end of the school year.