Bobcat wrestlers finish 5th at
BIT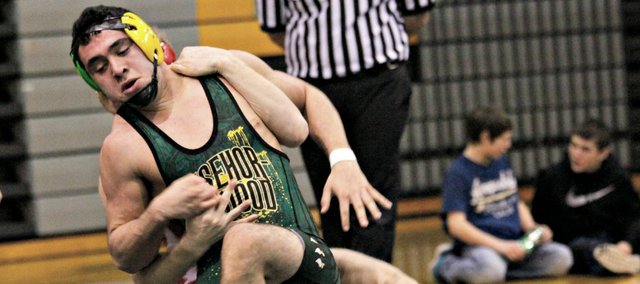 Saturday's Baldwin Invitational Tournament served as an impromptu regional test for the Basehor-Linwood wrestling team, and several Bobcats passed with flying colors.
BLHS had five top-five finishes and placed fifth out of 16 teams in the annual tournament. The Bobcats were at their best at the end of the day, going a combined 7-3 in medal rounds.
"I think we were in eighth with two rounds to go," coach Tyler Cordts said. "We hadn't been above eighth all day, but we rattled off a bunch of wins right in a row. We kind of caught fire at the end."
Freshman Corbin Nirschl (106 pounds) again defending his No. 1 state ranking, going 3-0 to remain undefeated on the season. After pinning his first two opponents, he defeated second-ranked Logan McDowell of Abilene in the finals, 12-0.
"If anything, he's turned it up a notch," Cordts said of Nirschl.
After falling in their respective semifinal matches, seniors John Hopper (152) and Cory McCleary (160) bounced back for third-place finishes. Hopper closed out his day with a 7-5 win against Prairie View's William Holland, while McCleary pinned Wamego's Dylan Campbell.
Senior Josh Summers (145) and junior Zack Carter (195) accounted for several backside points on their way to fifth-place finishes. Summers went 3-2 in the tournament, while Carter went an even 2-2.
"Things were not going the way we wanted them to most of the day, but despite all that, the boys were still able to pick it up when it mattered," Cordts said. "It's real easy to pack it in and give up, but they didn't do that whatsoever."
As a team, BLHS accumulated 159.5 points. Holton, the reigning Class 4A state champ and the host of the Bobcats' upcoming regional tournament, won the team title with 212 points.
Cordts' squad will be back on the mat at 5 p.m. Friday for a triangular with Ottawa and Mill Valley at OHS. The meet was originally scheduled for today, but has been moved because of the potential of more inclement weather.
"(Saturday) definitely gave us a measuring stick of what we needed to do," Cordts said. "I think we have a pretty good game plan from here on out. Personally, I think we're in good shape. We just have a few small things we need to correct, then I think we'll be sitting real good at regionals."
Overall team results
Holton, 212; 2. Goodland, 201; 3. Prairie View, 185.5; 4. Baldwin, 181; 5. Basehor-Linwood, 159.5; 6. Abilene, 147.5; 7. Tonganoxie, 131; 8. Royal Valley, 125; T9. Jeff West, 99; T9. Wamego, 99; 11. De Soto, 88.5; 12. Louisburg, 84; 13. Santa Fe Trail, 80; 14. St. James Academy, 55; 15. Eudora, 16; 16. St. John's Military, 13.
BLHS individual results
106 — Corbin Nirschl, 3-0 (First)
113 — Open
120 — Open
126 — Open
132 — Justin Phillips, 4-1 (Seventh)
138 — Tucker Rowland, 0-2 (N/A)
145 — Josh Summers, 3-2 (Fifth)
152 — John Hopper, 3-1 (Third)
160 — Cory McCleary, 3-1 (Third)
170 — Alex Bejarano, 0-2 (N/A)*
170 — Stephen Struzzo, 1-3 (Sixth)
182 — Zach Holtgrewe, 2-2 (Seventh)
195 — Zack Carter, 2-2 (Fifth)
220 — Jake Phillips, 0-3 (N/A)*
220 — Dominic Foster, 2-1 (Seventh)
285 — Cullen Povilonis, 1-2 (Eighth)
*Competed unattached