Fundraisers planned for Basehor twins in need of surgery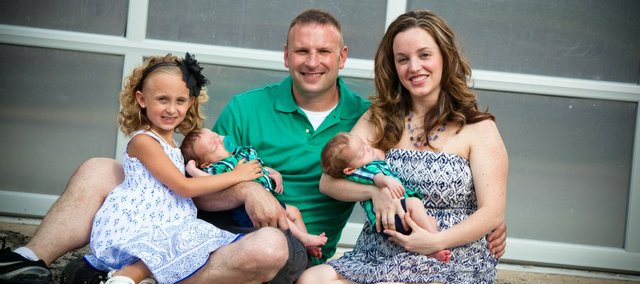 Local organizers have planned two fundraisers for this weekend to benefit Blake and Lance Tranckino, twin baby brothers who require reconstructive brain surgery.
A Chris Cakes pancake feed, garage sale and raffle will start at 7 a.m. Saturday at Earl Bryant Heating and Cooling, 15280 Briar Road, Basehor.
Chris Cakes will be served from 7-10 a.m. The garage sale and raffle will be 8 a.m.-2 p.m. Raffle tickets can be purchased at the event, Prize is an HVAC unit and installation. T-shirts also will be sold for $20.
Later that day the Basehor Sonic, 15516 State Ave., will donate 15 percent of all sales, as well as all tips from 5-8 p.m. to help with Blake and Lance's medical bills, which are expected to cost $100,000. The specific surgery is not covered under the family's plan through KanCare. Blake and Lance's parents are Vic Tranckino and Karla Holton, Basehor.
Additional fundraisers are planned for later this month and in March.
Living Water United Methodist Church, 115th and Leavenworth Road in Kansas City, Kan., will have a French toast breakfast 8:30-11 a.m. Saturday, Feb. 22, for $5.
Dance Strong Studio will have a vendor event March 1 at the studio, 302 Shoemaker Way in Tonganoxie.
And from 8 a.m.-4 p.m. March 15, a swap meet and car corral will take place and arts and crafts, business and food vendors will will be selling items at the Leavenworth County Fairgrounds in Tongnoxie. Contact for the March 15 fundraiser is Travis Wilson, 785-840-7160.
Online donations also can be made at youcaring.com/BLAKELANCE or at any First State Bank and Trust location.