Basehor Sentinel's former sports reporter Andy Marso speaks about new book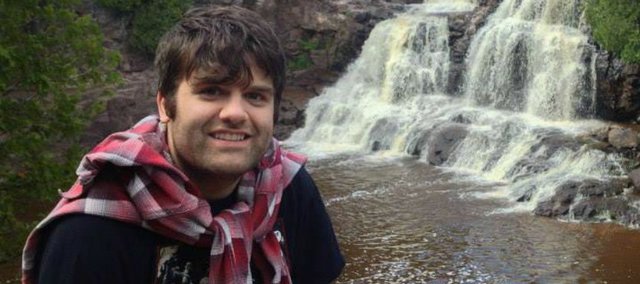 Basehor — Andy Marso hugged several emotional parents of former Basehor-Linwood athletes Saturday after signing copies of his recently published book.
Marso didn't completely recognize each of the parents, but when he heard who their kids were, he immediately remembered them. Marso covered Basehor-Linwood High School sports as a part-time reporter for the Basehor Sentinel in 2004 when he contracted and nearly died from a meningitis infection.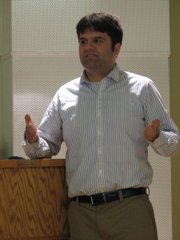 "As soon as they said who their kids were, everything came back to me," Marso said.
Leasa Keesee's son Travis Daly was one of the athletes Marso wrote about. Daly played soccer at the time and Marso remember Daly's skills on the pitch has he spoke with Keesee and signed his book, "Worth the Pain — How Meningitis Nearly Killed Me — Then Changed My Life for the Better."
"He's come through more than most people could handle," Keesee said of Marso.
Keesee, along with about a dozen other audience members, joined Marso at the Basehor Community Library on Saturday to hear Marso talk about his battle with meningitis and the four-year process of writing the book. In his book, Marso speaks a lot about the Basehor community and how the people he knew from his brief time covering sports created an incredible support system for him.
"We always spoke to him at the games," Keesee said. "You just knew he was a great kid."
Marso was working for the Basehor Sentinel while studying journalism as a senior at Kansas University. He was covering a girl's softball double-header when he contracted meningitis B, a strand of the bacterial infection lacking a vaccination approved by the U.S. Food and Drug Administration. He was just several weeks from graduating.
Marso's fight with the infection caused his body irreparable damage. He underwent about a year of intense physical therapy and burn therapy to save his legs and arms from amputation, followed by a long stint of physical and occupational therapy.
"Meningitis is something that can take a perfectly healthy human being and kill them in less than 24 hours," Marso said, noting that college students are six times more likely to contract it because of their close living quarters.
On Saturday, Marso said one of the biggest motivating factors for him in all of his therapy was to one day get back to work and cover Basehor-Linwood sports.
"I needed to get healthy enough to get back to that job," Marso said. "I'm fairly certain that I would not be where I am today if I didn't have that supportive community."
His book includes a forward written by Kansas University women's basketball coach Bonnie Henrickson, who visited Marso in the hospital in 2004. Marso covered some KU sports in his time studying journalism, and he said Henrickson connected with his story because she had witnessed one of her former athletes fight meningitis in the past.
Marso, who is now a reported for the Topeka Capital-Journal. told the group of parents that even if his book hadn't been published by Kansas City Star Publishing, the writing process was necessary for him to understand why this happened to him. He said he used to have nightmares and become depressed when recalling his rehabilitation, but through writing the book he was able to see all of the positives the experience brought out in him and the people around him.
"Writing this gave a real beautiful meaning to the experience that a lot of people might think of as a tragedy," Marso said.
Marso has had book signing events at Washburn University and at the University of Maryland, where he earned his master's degree in journalism several years after leaving Basehor. The book is available to purchase online on Amazon.com.