BLHS

girls bounce back to defeat Chieftains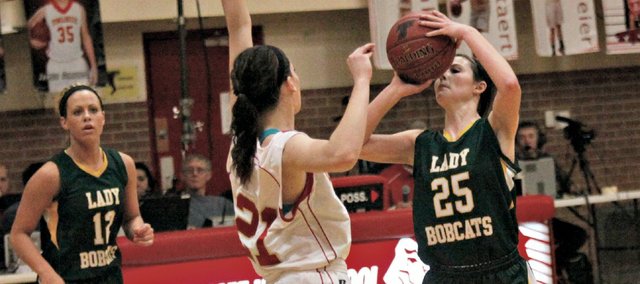 KVL standings
Team, KVL, Overall
Piper, 8-0, 13-2
Bonner Springs, 7-1, 11-3
Basehor-Linwood, 6-2, 10-4
Mill Valley, 5-3, 9-6
Lansing, 3-5, 6-8
Tonganoxie, 2-6, 5-9
Bishop Ward, 1-7, 4-10
Turner, 0-8, 1-13
Tonganoxie — The Basehor-Linwood girls stepped off the court Monday at Piper with a sour taste in their mouths, but they needed just one day to once again taste victory.
BLHS bounced back from Monday's 58-51 loss to Piper with a 47-37 win Tuesday at Tonganoxie. The Bobcats let a double-digit lead shrink to one point midway through the fourth quarter, but scored the game's final nine points — all from the free throw line — to secure the victory.
"We knew we had a quick turnaround and had to come in here to a tough place to play," coach Jason Tatkenhorst said. "We have not played well here in the past, so even though we felt like we could have done a little better, it's still a confidence boost for us."
The Bobcats (10-4, 6-2 Kaw Valley League) entered the fourth quarter with a 36-26 lead, but the Chieftains (5-9, 2-6) went on an 11-2 run to make it 38-37 with 3:21 remaining. That's as close as it got, though, as the BLHS defense didn't allow another point the rest of the way.
THS was forced to foul in the game's final minutes, and the Bobcats capitalized with nine made free throws in the final 3:01.
"(Monday) night, we were the team that was behind, and we saw Piper make free throws," Tatkenhorst said. "We kept the lead somehow (Tuesday night) and finally got to the free throw line. That's what good teams do is go to the free throw line and make them to finish out the game."
As a team, BLHS went 18-of-26 from the charity stripe.
Tatkenhorst's squad opened up an 11-5 lead at the end of the first quarter and continued to distance itself from the Chieftains in the second. The Bobcats took their first double-digit lead at 17-7 with 5:41 until half and extended the advantage to 12 at the break, 28-16.
Madison McDowell led BLHS with 15 points, including 11 in the first half. Victoria Smith, the team's leading scorer in nearly every game this season, managed just nine points on 3-of-9 shooting, but several other Bobcats hit key shots throughout the night.
"Everybody kind of picked it up when Victoria wasn't quite getting it done inside," Tatkenhorst said.
The Bobcats will be back at home Friday for a meeting with rival Bonner Springs. Tipoff is set for 5:45 p.m.
Score by quarters
Basehor-Linwood 11 17 8 11 — 47
Tonganoxie 5 11 10 11 — 37
Individual scoring
BASEHOR-LINWOOD — Madison McDowell 4-7 6-10 15, Victoria Smith 3-9 3-6 9, Amber Garver 1-4 4-4 7, Alex Gorman 1-3 2-2 5, Ryann Smith 1-1 2-2 4, Marriah Clayton 1-4 1-2 3, Jenna Mussett 1-1 0-0 2, Courtney Payne 1-3 0-0 2.
TONGANOXIE — Kara Banks 2-7 7-10 11, Katelyn Waldeier 4-6 0-3 8, Tressa Walker 3-7 0-0 8, Sarah Ahart 2-3 2-4 6, Emily Soetaert 2-9 0-6 4.