BLHS

lifters win titles at home meet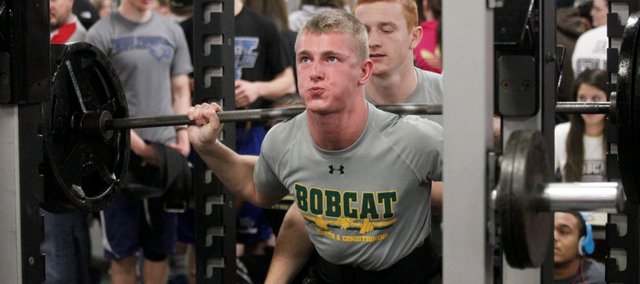 After a three-week break, the Basehor-Linwood powerlifting teams hit the weights once again Saturday for their annual home meet. The Bobcats swept the individual team titles at the one-day event, which drew about 580 lifters from 32 schools.
The BLHS girls finished ahead of second-place Leavenworth and third-place Belton (Mo.), while the boys beat out second-place Topeka High and third-place Clay Center.
The Bobcats had 12 overall champions at the meet, including five in junior competition. Cassandra Beattie, Katey Trower and Dean Cochran were named lifters of the meet after winning their respective weight classes. The Bobcat teams also combined to break 10 meet record. Cochran and Courtney Norris set new overall marks in their divisions.
The BLHS meet also included 10-yard dash, vertical jump and broad jump competitions. A complete list of BLHS winners is available below.
The Bobcats will be back in action Feb. 22. They'll send split squads to Horton and Clay Center for their final action before the Class 4A state meet, set for March 1 in Abilene.
BLHS award winners (junior lifters in italics)
Lifters of the Meet: Cassandra Beattie, Katey Trower, Dean Cochran
Overall champs: Hanna Dickey (365), Cassandra Beattie (435), Courtney Norris (550), Katey Trower (605), Cassie Tucker (525), Alli Kasick (640), Colton Gibson (334), Corbin Nirschl (500), Justin Phillips (605), Austin Salazar (830), Tyler Kendrick, 835, Dean Cochran, 960.
Second place overall: Erin Leach (355), Katie Tindell (435), Britney Smith (465), Courtney Robinson (465), Sierra Smith (505), Tyler Miller (515), Cole Oelschlaeger (700), Jay O'Bryan (960), Bret Fritz (1,060).
Third place overall: Allie Johnson (350), Madison Wheeler (445), Abby Lee (455), Brianne Kennedy (470), Kailey Drennon (475), Charles Moore (685), Nick Chaney (1,045).
10-yard dash winners: Courtney Norris (1.86), Sierra Smith (1.91).
Vertical jump winners: Sierra Smith (27.7), Chase Unruh (36.3), Dean Cochran (33.4).
Broad jump winners: Connor Smith (8-3.5), Sierra Smith (8-4.5), Chase Unruh (9-7.5).
Meet records broken by BLHS lifters
Hang clean: Katey Trower (175), Courtney Norris (175), Tyler Kendrick (295), Dean Cochran (320), Jay O'Bryan (315).
Bench press: Britney Smith (135), Katey Trower (160).
Squat: Cassie Tucker (245).
Overall: Courtney Norris (550), Dean Cochran (960).