THEY

DID

IT

AGAIN

: Bobcat boys outlast Tonganoxie in two overtimes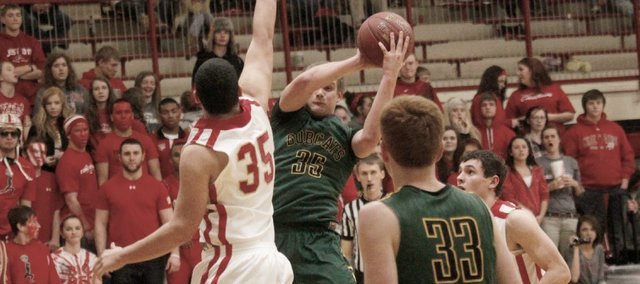 KVL standings
Team, KVL, Overall
Lansing, 8-0, 14-0
Basehor-Linwood, 7-1, 12-2
Mill Valley, 5-3, 8-5
Piper, 5-3, 9-4
Tonganoxie, 4-4, 7-7
Bonner Springs, 2-6, 5-9
Turner, 1-7, 3-11
Bishop Ward, 0-8, 2-12
Tonganoxie — Back-to-back road games on consecutive days? Bring it on. Double overtime in each game? Sure, no problem. While you're at it, add a 2-0 record to the mix.
To call the first half of Basehor-Linwood's week improbable would be a bit of an understatement. But, 80 minutes and 177 points later, the Bobcats' win streak is still intact. Less than 24 hours after escaping Piper on Monday with a 100-99 victory that took two extra periods, BLHS hung on for a 77-69, double OT victory Tuesday at Tonganoxie.
"We're starting to figure out how to win close games," coach Mike McBride said. "Last year, when we didn't have seniors, we didn't know how to do that. We came from behind in overtime (Monday) night and we came from behind in regulation (Tuesday), so that tells me how bad these kids want it."
After needing every second of game time to defeat Piper on Monday, the Bobcats (12-2, 7-1 Kaw Valley League) took control in the second overtime period Tuesday at THS. Chase Younger opened the period with a three-point play to give BLHS a 70-67 lead, and the Bobcats outscored the Chieftains (7-7, 4-4) in the period, 10-2.
Tonganoxie's only two points of the second overtime came on a pair of free throws by Tyler Ford with 2:07 remaining. That made it 71-69 BLHS, but following a Bobcat free throw, Jahron McPherson intercepted a THS pass and took it in for an uncontested layup. That gave BLHS a five-point lead with 48.1 seconds left, and THS never got back within two possessions.
"It was stressful, but I knew me and my team would pull through," said McPherson, who hit the game-winning shot in Monday's victory at Piper. "We all trust each other. We've got each other's backs and we know we can get it done."
Tonganoxie missed four free throws in the final minute of regulation, but Jack Dale connected twice at the line to give the Chieftains a 61-58 lead with 19.5 seconds left. Zach McNabb had an answer at the other end, draining a game-tying 3-pointer with 6.7 ticks remaining. The shot was McNabb's only made field goal of the contest, but he went 15-of-20 from the free throw line, including several big shots in overtime.
"Once we got to overtime, I knew we'd have a chance to win because I know my kids," McBride said. "We have a bunch of basketball-savvy kids, so if we get to overtime, I like our chances every time."
BLHS had a chance to win at the end of the first overtime, but JP Downing came up empty on a layup attempt with about three seconds left and Tonganoxie's James Grizzle pulled down the rebound to force a second extra period. The Bobcat defense took over from there to secure the victory.
"We didn't have our legs. I knew that at the start of the game, but for us to fight through that was amazing," McBride said.
THS grabbed the momentum early, jumping out to a 10-1 lead midway through the first quarter. However, a dunk by Patrick Muldoon sparked a 12-4 BLHS run that brought the Bobcats to within one by the end of the period. A power struggle ensued in the second quarter, and the teams went into the locker room tied at 27-all. The back-and-forth battle continued into the third quarter, which the Bobcats ended with a 42-40 lead.
Grizzle gave BLHS fits early and often, dropping a game-high 30 points on a 12-of-16 shooting effort. Younger and McNabb led the Bobcats with 20 and 18 points respectively. Muldoon, who fouled out late in the fourth quarter for the second straight game, added 12 points.
With the win, BLHS stayed one game behind Lansing in the KVL standings. The Bobcats will have two days off before hosting rival Bonner Springs on Friday.
Score by quarters
Basehor-Linwood 13 14 15 19 6 10 — 77
Tonganoxie 14 13 13 21 6 2 — 69
Individual scoring
BASEHOR-LINWOOD — Chase Younger 6-12 5-6 20, Zach McNabb 1-5 15-20 18, Patrick Muldoon 6-17 0-0 12, Carson Fliger 3-4 3-3 9, Jahron McPherson 3-5 3-4 9, JP Downing 2-4 0-0 5, Tim Sanders 1-5 2-4 4.
TONGANOXIE — James Grizzle 12-16 6-7 30, Jack Dale 4-11 6-6 14, Tyler Ford 2-6 6-9 10, Eric McPherson 3-3 1-2 7, Carl Hecht 1-2 4-4 6, Brady Swedo 0-4 2-2 2.