Basehor-Linwood Brainiacs successful season nears end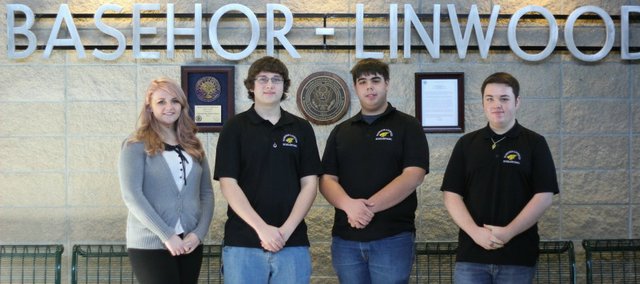 The 2014 Basehor-Linwood Scholars Bowl season came to an end at Perry-Lecompton in the northeast Kansas 4A Regionals on Monday, but the team still has the Knology Bowl to look forward to.

Facing their toughest competition of the season, the Bobcats posted a 3-4 match play record and failed to qualify for state Monday. The students have to answer challenging questions about social studies, language arts, mathematics, science and health, fine arts, current events and have to be able to write in several languages.
The Brainiacs brought home medals and trophies from six key events during the successful season, including 1st place finishes at Washington High School and the Ram Invitational at Pleasant Ridge.
Seniors Taylor Cameron, Jack McCraney, Nathan Lucas, and Matt Higgins led the way for the squad this year. Lucas was the team's "top gun" in scoring for the season, followed by Taylor Cameron and sophomore Mitchell Mikinski.
While the team has concluded their regular portion of KSHSAA competition, they will have a final competition in the Knology Bowl on Channel 6 in the spring.
In addition to the senior letter winners, other team members lettering were junior Kennedy Bowers, sophomore Lauren Cline, freshman Jacob Lutgen, sophomore Mitchell Mikinski, and junior Erin Rigdon.
Junior varsity team members included sophomore Mauryn Brownback, junior James Harkness, sophomore Ashley Hicklin, sophomore Abby Lee, and junior Aly Levinson.