Basehor program makes exercise fun for entire family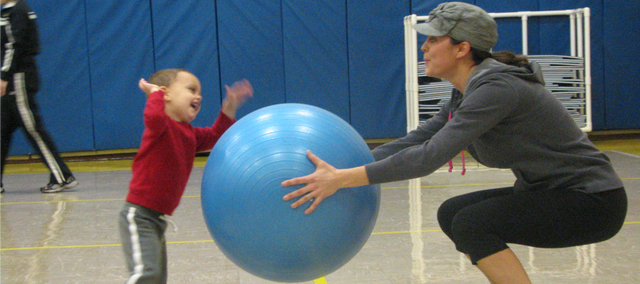 Basehor — Exercise balls aren't just good for exercise, they're also a ton of fun.
Two-year-old Weston banged on the exercise ball his mother Heather Sambol held Friday at Basehor Elementary School during the weekly Family Fun Fitness class. Weston giggled uncontrollably while his mom held the ball extended in front of her in a squat position. The exercise was one of many designed to allow moms and other family members a way to include children in their exercise routines.
"It's a good opportunity, especially in the winter, for him to burn some energy and for me to get some exercise," Heather Sambol said of the Family Fun Fitness classes.
She said she is able to take the exercises she has learned at the classes, which are held every Friday while school is in session at Basehor Elementary School, and apply them at home. She also said Weston enjoys taking what he learns home.
"He likes to show his sister some of his yoga moves," Sambol laughed.
At the class Friday, moms of all ages worked with Jen Penegar of Basehor's Exreme Fitness Fusion on various exercises including yoga, sit-ups, and jumps and lunges. The fun goes both ways, though. The kids enjoyed every moment of it, not seeming to realize what they were doing was exercise.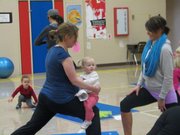 The moms jumped and lunged to a fun version of the "Heads, shoulders, knees and toes" song, they raced their kids to pick up plastic fruits and vegetables across the gymnasium at the school, and they talked to their kids about healthy food as they did wall-sits (an exercise that works the leg muscles as you press yourself against a wall in a sitting position).
"A lot of times, moms don't think they have time for exercise, but a goal of this class is to show them how they can incorporate their kids into home exercises," Penegar said.
The class runs throughout the school year on Fridays, with occasional evening sessions, and once a month, the group talks about healthy snacking.
The free class is offered by the Parents as Teachers organization and Parent Educator Jacki Himpel. This is the second year Parents as Teachers has offered the class.
In those two years, the organization has been awarded more than $7,000 in grants from the Kansas Health Foundation to fund the class. Himpel said the mission of the Family Fun Fitness program is to provide families of birth-to- 5-year-olds the opportunity to exercise together.
"We want to make life-long fitness something fun for the entire family," Himpel said.
Pregnant mothers even participate. Kaitlyn King of Bonner Springs did some low-key exercise Friday along with her 1-year-old, Wynni, with just three weeks until the mom's due date. King has been coming to the class since September.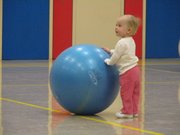 "Jen (Penegar) is really good at mixing the exercises up and keeping it fun," King said.
Wynni, who was confused at her mom's exercise movements at times, would balance on King's leg as she held a yoga pose.
"I think her favorite part is pushing around the big exercise balls," King said.
More information about the Family Fun Fitness class can be found on the Parents as Teachers tab of the USD458.org website.