Basehor council approves city administrator role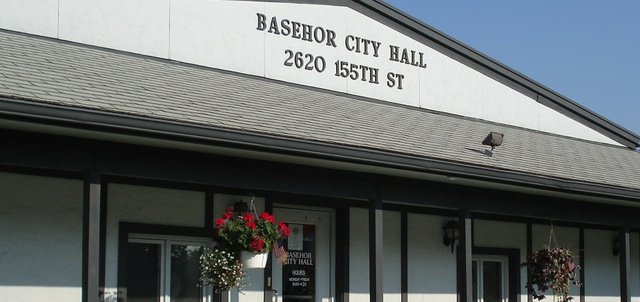 Basehor — Several items on the Basehor City Council agenda for the past couple of years were checked off the to-do list Tuesday night.
After two years serving as the city's interim city administrator, Police Chief Lloyd Martley had the interim tag removed by the council after the council unanimously approved his new title within the city. Meanwhile, the city's code was updated through an extensive codification process that organized all of the cities ordinances into an easy-to-search format.
Martley will continue filling both the city administrator and police chief roles until the city decides that a separate, full-time city administrator should be hired, according to the resolution approved 3-0 by the council. Council member Dick Drennon was absent from Tuesday's meeting and Ty Garver arrived after the vote was counted. Garver later said he fully supports the resolution.
Martley will be compensated on a contractual basis for his role as city administrator at about $27,000, Martley said earlier in February, while also earning about $70,000 as the police chief.
The resolution also states that the city administrator position and the polic chief position are "exclusive of each other, and a decision to make a change in one position will not impact the other."
Neither the mayor nor any council members added comment to their votes on Tuesday as they had previously voiced their support of the decision in the council's earlier work session. Council member Travis Miles said at the time that the city has "never run better."
The city is saving money by not filling the $100,000 it would take to pay a full-time city administrator.
Since Martley took over in September 2011 as interim city administrator, the city has been working to reorganize the city's code into a searchable and organized document.
On Tuesday, that project came to a successful end. With the unanimous approval of the resolution to adopt the new codification, the public and city employees will be able to easily access and research city ordinances on paper and online.
"This is a big thing for our city, and it has taken a long time," Martley said.
The new code will soon be available to the public on the city's website.
In other news from the council meeting, the board:
• Swore in the city's new treasurer, Kristi Olsen. Olsen, who has a degree in accounting from Ottowa University in Kansas City and eight years of experience as a senior accountant, has been working for the City of Basehor for the past four years.
• Approved liquor licenses for Bohannon's Wine, Spirits and Liquor and Falcon Lakes Clubhouse.
• Heard from Martley that Jalapeños Mexican Grill will be adding a new location in Basehor where the old 24/40 Highway Cafe used to be in the Basehor Town Center shopping mall. Martley said the restaurant is planning to open by the end of March.