BLHS

boys can't answer Lions in second half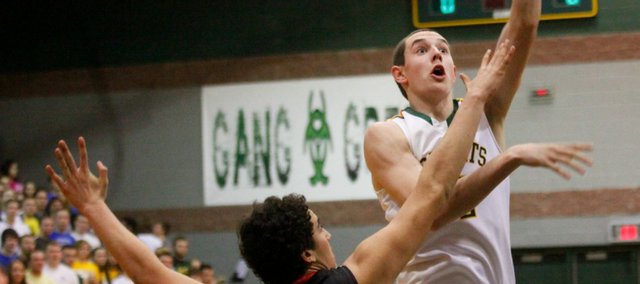 KVL standings
Team, KVL, Overall
Lansing, 10-0, 16-0
Basehor-Linwood, 8-2, 13-3
Mill Valley, 7-3, 11-5
Piper, 7-3, 12-4
Tonganoxie, 5-5, 8-8
Bonner Springs, 2-8, 5-11
Turner, 1-9, 3-13
Bishop Ward, 0-10, 2-14
When the Basehor-Linwood boys returned from the locker room after halftime of Tuesday's game against Lansing, they did so seven points ahead of the state's top ranked Class 5A team. When the second half started though, the Lions showed why there's currently a "No. 1" next to their name.
BLHS led by as many as nine early in the third quarter, but couldn't find an answer for a late LHS surge in a 73-62 loss.
A shot by Patrick Muldoon gave the Bobcats (13-3, 8-2 Kaw Valley League) a 32-23 lead in the opening minute of the third quarter, but the Lions (16-0, 10-0) responded in a big way. They scored the next 10 points — including seven by Air Force signee Joe Schneider — to take their first lead of the half. BLHS briefly regained the lead midway through the period, but Lansing closed out the quarter on a 9-3 run to go in front, 45-42.
"They just started going to the hole," coach Mike McBride said. "They're just that much more athletic than everybody. Them running up and down the floor, they just wore us out."
McBride's squad stayed within one possession until Lansing extended its lead to five with 5:51 remaining. The Lions continued to pull away down the stretch, leading by as many as 13 in the game's final minutes.
Schneider led Lansing's second-half onslaught, scoring 19 of his game-high 25 points after the break. He was at his best in the third quarter, dropping 12 points in the period.
"He's worked on his game so much," McBride said of Schneider. "There's a reason why Air Force wants him. You've got to give the kid credit."
The Bobcats and Lions struggled for momentum early in the contest, as neither team led by more than four points until the final minute of the first half. Muldoon got several looks under the basket in the first half, and Zach McNabb provided BLHS with a spark just before the break. Lansing clung to a 23-22 lead midway through the second quarter, but McNabb closed out the period with eight straight points, giving the Bobcats a 30-23 lead.
"We did everything we wanted to do," McBride said. "We followed the game plan exceptionally well, and I thought they got tired, which is why we made a little run there at the end (of the first half)."
McNabb and Chase Younger led the Bobcats with 15 points each, and Muldoon added 14. Lansing's Zach Jackson complemented Schneider's outing with 18 points. The Lions now have a two-game lead in the KVL standings.
BLHS will have two more opportunities to pick up league wins this week. They'll travel Friday to Turner, then host Bishop Ward in a makeup game on Saturday. McBride said the team will learn from Tuesday's loss, citing a similar situation from a few seasons ago.
"In 2009, we lost to a team called Lansing this same week, then we won state, so that's the plan," he said.
Score by quarters
Lansing 10 13 22 28 — 73
Basehor-Linwood 8 22 12 20 — 62
Individual scoring
LANSING — Joe Schneider 9-16 6-6 25, Zach Jackson 4-10 8-10 18, Khalil Bailey 4-6 2-3 10, Dontae Gibson 4-10 1-1 10, Joe Lendway 3-4 0-0 6, Krystian Abbott 1-1 0-0 2, Kenneth Banks 1-3 0-0 2.
BASEHOR-LINWOOD — Chase Younger 5-9 4-4 15, Zach McNabb 5-9 3-4 15, Patrick Muldoon 7-13 0-1 14, Jahron McPherson 2-9 4-5 9, Tim Sanders 2-6 1-4 5, Carson Fliger 1-1 0-0 2, JP Downing 0-4 2-2 2.