Bobcat girls fall to Lansing on buzzer-beater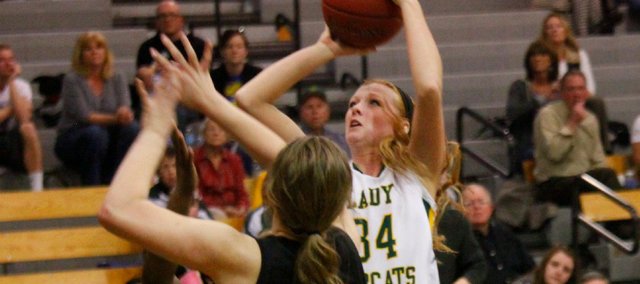 KVL standings
Team, KVL, Overall
Piper, 10-0, 15-2
Basehor-Linwood, 7-3, 11-5
Mill Valley, 7-3, 11-6
Bonner Springs, 7-3, 11-5
Lansing, 5-5, 8-8
Tonganoxie, 3-7, 6-10
Bishop Ward, 1-9, 4-12
Turner, 0-10, 1-15
The Basehor-Linwood girls turned a seven-point deficit into a two-point lead in a span of just more than two minutes in the fourth quarter. But, with a simple flick of the wrist at the other end of the floor, the comeback went for naught.
A 3-pointer by Lansing's Madelyn Moya at the buzzer sunk the Bobcats in a 54-51 loss to the Lions on Tuesday.
Two free throws by Lansing's Mikayla Zielinski forced a 51-51 tie with 1:28 remaining, and the Bobcats (11-5, 7-3 Kaw Valley League) dribbled the clock down to 12.3 seconds before calling a timeout. A turnover gave the ball back to the Lions (8-8, 5-5) with 2.6 ticks left on the clock, and Moya drained a shot from beyond the arc as the buzzer sounded.
BLHS trailed by a 49-42 margin with 3:52 remaining, but used a 9-0 run to take its first lead since the game's opening minutes. Victoria Smith, who led the Bobcats with 16 points, scored the equalizer with 2:33 left, then put her team in front with 1:48 remaining.
"I was proud of how we kept battling back," coach Jason Tatkenhorst said. "We slowly worked our way back in. We had plenty of time, but sometimes, you'll think you don't have much time and you'll try to force it. We left it all on the floor in that second half."
It was the second time BLHS erased a multiple-possession deficit in the second half, as it entered the third quarter trailing by five, 31-26. The Bobcats got within two several times in the period before finally drawing even on a pair of Amber Garver free throws with 2:39 left.
The teams traded scores for the rest of the quarter, and Lansing opened the fourth on a 9-2 run to set up the thrilling finish.
BLHS left several scoring opportunities at the free throw line, where it went just 18-of-35. Garver and Smith went a combined 12-of-14, meaning the rest of the Bobcats shot worse than 29 percent from the stripe.
"We can't expect to make them all, but that's a lot of free throws," Tatkenhorst said.
Lansing jumped out to a 15-10 lead after the first quarter, and BLHS failed to gain any ground before the break. The Lions led by as many as nine late in the second, but the Bobcats scored the final four points of the half to keep the deficit at two scores.
Garver joined Smith in double figures with 14 points. Moya and Madison Bosworth led Lansing with 16 and 12 points, respectively.
Tatkenhorst's squad will play two more games this week against teams its already defeated this season. The Bobcats will travel Friday to Turner, then host Bishop Ward in a makeup game on Saturday.
"We've got to make sure we're getting better each game, and we didn't get better this game," Tatkenhorst said. "Friday and Saturday, we'll try to get better."
Score by quarters
Lansing 15 16 9 14 — 54
Basehor-Linwood 10 16 14 11 — 51
Individual scoring
LANSING — Madelyn Moya 4-10 6-9 16, Madison Bosworth 4-6 4-6 12, Emily Babcock 2-4 4-4 9, Kija Cammock 2-3 1-2 5, Maya Cooper 1-1 1-2 3, Carly Bohannon 1-4 0-0 3, Jasmine Meyer 1-2 0-0 2, Destini Mathis 1-2 0-0 2, Mikayla Zielinski 0-7 2-2 2.
BASEHOR-LINWOOD — Victoria Smith 5-11 6-7 16, Amber Garver 3-10 6-7 14, Madison McDowell 2-6 0-2 6, Marriah Clayton 1-2 4-8 6, Ryann Smith 1-4 2-4 4, Alex Gorman 1-5 0-2 3, Courtney Payne 1-1 0-1 2.