Face to Face:
USD

458 Superintendent David Howard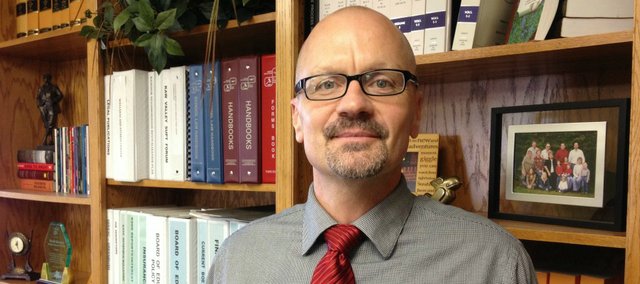 Name: David Howard
Family: Howard and Toni, his wife of 19 years, have two children, both enrolled in the Basehor-Linwood School District. Madison is a 16-year-old junior at BLHS and Zachary is a 14-year-old eighth-grader at BLMS.
Birthplace: Kansas City, Kan., but was raised in Hutchinson.
Occupation: USD 458 Superintendent. Howard, who has lived in Basehor for seven years, is serving his fifth year as the school district's superintendent. He worked as the district's assistant superintendent for two years prior to taking his current position.
Dream job as a child: Growing up, Howard wanted to be an attorney. The thought still makes him scratch his head.
"I don't know why," Howard said. "I wasn't an active debater or anything like that."
No members of Howard's family were attorneys either. Everything changed and Howard found himself interested in education while studying history and government at Fort Hays State.
"That's basically when I changed my mind," Howard said.
He got his first full-time teaching job after graduating in White City, Kan., just south of Junction City.
An ironic twist is that now his 14-year-old son Zachary has spoken up about his potential career of choice. What is it, you might ask?
"Attorney," Howard said.
Digging deeper: Howard, for years, managed to align his passion for education with another passion: football.
Howard has coached high school football in both 11- and 8-man leagues. He was a two-sport athlete in high school, playing basketball and football, and originally went to Bethany College to play football.
Howard says he enjoyed the weekly strategy of coaching football, all in anticipation for Friday nights.
"It was fun getting kids fired up and watching them, hopefully, take what you worked on all week and use it in the game," Howard said.
Howard accrued a 19-8 record as the 8-man coach at Chase High School in Chase before moving to Basehor. Although he misses the lights and the strategy of the game, Howard said, he is content watching Basehor-Linwood High School football games from the stands as he focuses on education in the district.