Neighbor saves dog that fell into frozen pond near Basehor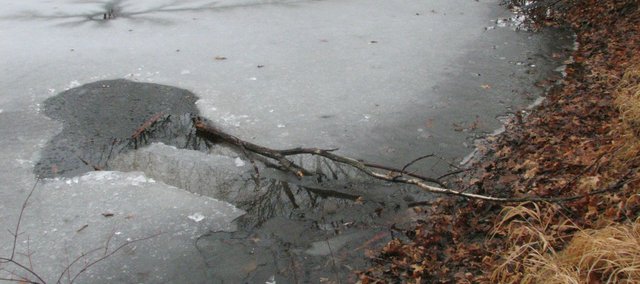 Basehor — Two quick thinking neighbors rescued a 7-year-old black lab golden retriever named Jetta who fell into a frozen pond Thursday afternoon and couldn't get herself to shore.
Marie Campbell was at home just before 1 p.m., sheltered from the soggy weather outside, when she heard her dogs barking. She knew their barking wasn't normal, but rather a "someone's-in-distress bark."
"That's when I noticed some movement in the pond," Campbell said, "but it's my dog's bark that got my attention."
From her house window overlooking the pond near 178th Street and Donahoo Road, Campbell recognized the black head bobbing in the water. It was the neighbor's dog Jetta. Campbell said she scrambled to put on boots and a jacket, said a prayer and called 911. She then dashed outside, calling Jetta's name as she ran about a quarter-mile to the edge of the pond.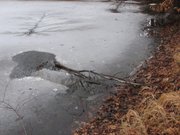 The ice, melting as the weather had warmed this week, was giving way around the edges of the pond where Campbell estimated the water is 3-feet deep. Campbell said the dog was struggling to keep its head above water.
Meanwhile, Jetta's owner, Mike Mikesic, who works for the Stranger Township Fire Department, heard the emergency call for a water rescue near his house. He then called his daughter Carissa Mikesic and asked where the dogs were. Carissa Mikesic, a senior at Basehor-Linwood High School, noticed that Jetta was gone.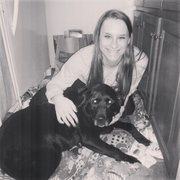 "I was scared thinking that it could be her in the water," Carissa Mikesic said later, becoming emotional thinking about it. "We definitely could not lose her."
Carissa said Jetta is the "perfect family dog."
She drove to the pond and noticed Campbell on the shore, waving for help, Carissa said.
Campbell said she picked up a dead tree limb while running to Jetta's aid and placed it on the ice so that Jetta could grab hold. When Carissa made it to the pond, she could see Jetta's paw, using the stick to hold her out of the water.
Then, digging her boots into the muddy bank of the pond, Campbell held Carissa's foot as she stretched 5 feet out into the pond on her stomach to reach Jetta. Campbell said she was sure not to let Carissa put too much weight on the ice to fall in herself.
Mikesic grabbed Jetta by the collar and heaved her onto the top of the ice.
"Her body was stiff and could barely move at that point," Carissa said.
In conversations after the rescue, both Carissa and Campbell gave credit to each other for saving the dog.
"She was pretty much the reason Jetta is alive," Mikesic said of Campbell.
"If she hadn't shown up, I'm not sure if the dog would have made it," Campbell said.
Carissa said she, Campbell and the first arriving paramedics from the Stranger and Fairmount Township Fire Departments helped carry the dog to Carissa's car to be taken to Wolf Creek Veterinary Clinic in Basehor.
The veterinarians told Carissa that Jetta did not suffer from hypothermia but they had gotten her out just in time. Jetta was scheduled to stay the night at the clinic for observation.
"We weren't going to let that dog die," Campbell said.