Basehor-Linwood Mixed Chorus travels to Wichita for state convention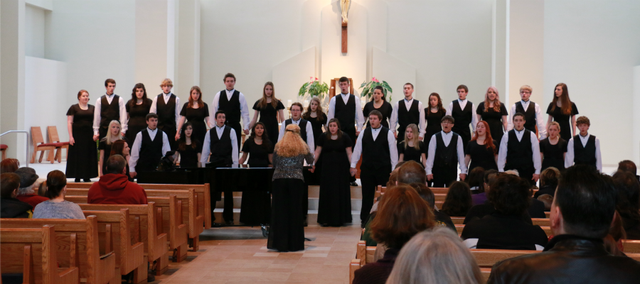 Basehor — Some are calling it a "do-over," a "second chance, redemption," but most of all the members of the Basehor-Linwood High School Mixed Chorus are calling it an honor.
The 32 members of the chorus were selected, for the second year in a row, by the Kansas Music Educators Association to perform at their annual convention on Feb. 28. They are the only 4A school selected to perform, joining a list of 5A and 6A choir programs. The choir and its 15-year director, Wendi Bogard, were invited last year to perform, but a heavy snowstorm canceled their trip.
"I was holding my breath this year hoping we would get chosen again and this time be able to actually perform," Bogard said.
For the choir, especially the seniors, this year's trip allows them to fulfill an honor they didn't get to realize last year.
"It was a letdown last year," said senior Natalie Engler. "But this is kind of our big hooray do-over."
The BLHS Mixed Chorus was selected through a "blind" audition process, Bogard said. Schools submit recordings of their songs to a panel of judges who pick the best without knowing the name, size or affiliation of the mixed chorus they are listening to. Bogard's choir, which has consistently received the highest ratings possible at state tournaments, made the list again and will perform Friday morning at 10 a.m. The group will travel to Wichita on Thursday and stay the night, thanks to funding provided by the booster club and the school district.
"It's really awesome that we were chosen again," said sophomore Claudia Jacobs. "It's almost like we are representing all 4A schools at the convention."
The choir will perform a list of seven songs added to their repertoire this year. The list includes songs in several different languages. Bogard, who conducts six choirs between BLHS and the middle school, said being a member of the choir is a challenge that not many recognize. She said she is currently teaching her sixth-grade choir how to sing in French and Hebrew.
"It's not easy," Bogard said.
Some of Bogard's students, like senior Bret Fritz, have been singing with Bogard since kindergarten. Fritz described the choir group as "family" and said some of the members refer to Bogard as "Momma Bear."
The choir said performing together is unlike anything else they have experienced.
"When we sing together, we put aside all the little differences and we come together as one voice, it's amazing," said junior Lindsay Taylor.