BLHS

state qualifiers prepare for trip to Salina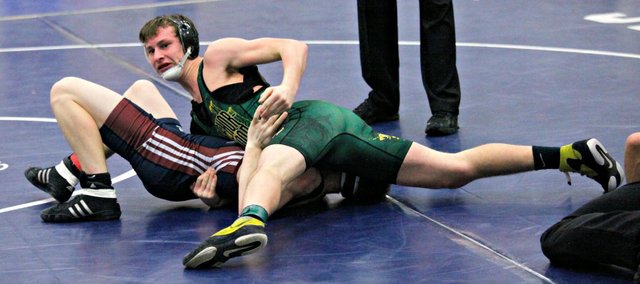 Holton — For many school wrestlers across Kansas, the final chapter of the 2013-14 season concluded Saturday. But, for five members of Basehor-Linwood's squad, the journey will end on the state's biggest stage.
With top-three finishes Saturday in Class 4A regional action at Holton, Corbin Nirschl (106), Dalton Inlow (138) Josh Summers (145), John Hopper (152) and Cory McCleary (160) each punched their tickets to this week's state tournament in Salina.
Nirschl kept his perfect season intact at regionals, going 3-0 with two pins to win the Bobcats' only individual title. He took advantage of a late stalling penalty in the championship match, eking out a 2-1 win against top-seeded Emmanuel Browne of Sumner Academy. Nirschl enters the state meet at 27-0.
Summers (18-10) was the only other Bobcat to reach the finals. He qualified for state with a pin of Bonner Springs' Dominic Salvino in the semifinals, earning the first bid of his career.
"When I made it, it felt like a big weight was lifted off my shoulders," said Summers, who fell to Royal Valley's Bryce Golightley in sudden-victory overtime in the finals. "It's my first time going (to state), so I'm excited to see how everything goes. I just want to get out there and wrestle."
Inlow (14-2), Hopper (27-6) and McCleary (33-8) each faced elimination after falling in Friday's semifinals, but came back Saturday with pins in the do-or-die round to earn state bids.
As a team, the Bobcats finished second at regionals with 125.5 points. They entered Saturday in fourth place, but a combined seven consolation wins by Stephen Struzzo (170), Zach Holtgrewe (182), Dominic Foster (220) and Cullen Povilonous (285) helped power BLHS by Bonner Springs and Tonganoxie in the final standings.
Host school Holton, which qualified 12 wrestlers for state and won five individual titles, won the team title with 246 points.
McCleary has been to state twice before and Hopper went last year, so the Bobcats aren't without experience in the Salina Bicentennial Center. Nirschl, Inlow and Summers are new to the tournament, but according to coach Tyler Cordts, they're hardly strangers to the setting.
"We'll get under the big lights and see how the arena works, but they've both been there the last two or three years to watch, so it's not like they're going in fresh," Cordts said. "I don't think we're going to have the worry of deer-in-the-headlights like we did sometimes last year. I think we'll be ready to go. It's not been mentioned, but it's very evident that they know this is it."
Action will begin at 10 a.m. Friday. Nirschl will open against Baldwin's Levi Green (22-20), Inlow will face Rose Hill's Jake Wilson (27-6), Summers will see Mulvane's Logan Elliott (29-11), Hopper will face Paola's Connor Patton (24-10) and McCleary will see Clay Center's Gabe Ware (20-9).
McCleary, who came one win short of medaling at last year's state tournament, said shaking any added nerves before wrestling is the key to success.
"Anxiety is pretty much what beats us," he said. "You're so stressed out about it and you feel like you've got tons of pressure, but really, you've just got to take it like another meet. You've just got to take it one match at a time. Just treat it like pawns in a game of chess until you get to the king."
Regional team results
Holton, 246; 2. Basehor-Linwood, 125.5; 3. Tonganoxie, 121.5; 4. Bonner Springs, 105; 5. Royal Valley, 97; 6. Sumner Academy, 78.5; 7. De Soto, 76; 8. Jeff West, 72; 9. Wamego, 71; 10. Atchison, 66.5; 11. Piper, 49.5; 12. Bishop Miege, 46; 13. Bishop Ward, 42; 14. Perry-Lecompton, 22; 15. Eudora, 9; 16. Hayden, 5.
BLHS state qualifiers
Name, Tournament (Overall)
106 — Corbin Nirschl, 3-0 (27-0)
138 — Dalton Inlow, 4-1 (14-2)
145 — Josh Summers, 3-1 (18-10)
152 — John Hopper, 3-1 (27-6)
160 — Cory McCleary, 3-1 (33-8)