Younger shines on
BLHS

senior night
Senior scores 1,000th point, breaks 3-point record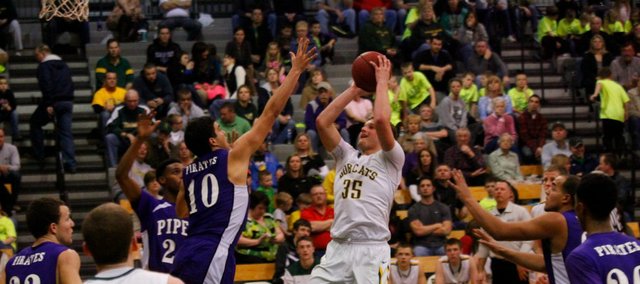 Related document
Related document
Basehor — Thursday Night was Senior Night for Basehor-Linwood High, but it might as well have been called Chase Younger Night.
Younger scored a career-high 42 points in the Bobcats' 79-53 victory against Mill Valley High.
He came into the game needing nine points to surpass 1,000 for his high school career. He reached the goal early in the second quarter with one of his 11 threes on the night.
"All I needed was nine for 1,000 (points)," Younger said. "I didn't plan on 42. I guess that worked out well."
Younger the basket felt like an ocean. Every shot he put up seemed to go in.
He was using screens to free himself, and said point guard JP Downing always knows when to get Younger the ball. He added that Mill Valley wasn't guarding him tightly and was just letting him shoot, sometimes from 25-feet away.
"JP told me when I was shooting my free throws that I needed to make my last one to get to 40," Younger said. "Last year when I had 39, I missed my free throws."
BLHS coach Mike McBride said he's never seen a performance like Younger's before. He said every shot Younger took was a good shot.
"If somebody's feeling it, I want to keep giving it to him until he's not feeling it any more," McBride said.
Mill Valley (12-8, 8-6 Kaw Valley League) led by one after the first quarter, but then Younger and Basehor-Linwood (17-3, 12-2) came alive in the second period, blowing the game wide open by outscoring the Jaguars 27-11 to take a commanding 42-27 lead into the break.
Mill Valley coach Justin Bogart called a timeout to slow the run, but BLHS answered with three more threes and Bogart has to call another one.
Younger had 18 at the half and picked right where he left off. At one point, he hit seven threes in a row.
When told Younger finished with 42 points, Bogart said, "Oh, my."
"I'm not sure who was going to be him with the way he was shooting," Bogart said. "Kudos to him. Why does he make all those shots? Because he works on that shot. He works to get open. You just saw a shooting display unlike many I've ever seen. He earned every one of those."
Bogart said the way to defend what Younger did the defender can't let him go, and they can't help or switch on anything.
"We had a couple breakdowns where we decided we're going to help off, and he gets the ball right back and it's going right up," Bogart said.
Pat Muldoon was the only other Bobcat in double figures with 10 points. Clayton Holmberg led the way for MVHS with 22 points. Drew Boatwright added 13 in the loss.
The game was the final regular-season home contest for Younger and fellow seniors JP Downing, Zach McNabb, Tim Sanders and Sean Potter, but the Bobcats' 2014 graduating class isn't done playing on its home floor. BLHS will welcome Tonganoxie, Piper and Atchison to town for this week's Class 4A-1 sub-state tournament, which begins Thursday with girls semifinal games.
The BLHS boys are the top seed in their tournament and will open at 7:30 p.m. Friday against No. 4 Tonganoxie. The winner will play the winner of No. 2 Piper and No. 3 Atchison in Saturday's championship game.
Mill Valley girls 47, Basehor-Linwood 35
Two days after having its senior night spoiled, the Mill Valley High girls ruined Basehor-Linwood High's with a 47-35 victory.
MVHS coach John McFall said he was finally able to breathe with 15 seconds left even though his team led by 10 with a minute remaining.
Catie Kaifes and Whitney Hazlett led the way for the Lady Jaguars with 13 points each.
MVHS built a nine-point halftime lead that was cut to six entering the fourth quarter.
The final period started off ugly as neither team could score a basket.
BLHS had chance after chance to try and tie the game up, but turnovers, missed threes that were too short and failed layups didn't help.
The first field goal came with 2:30 left in the quarter.
With his team down eight with 2:14 remaining in the game, BLHS coach Jason Tatkenhorst was about three steps onto the court after he thought senior Victoria Smith was fouled. Tatkenhorst received a technical. He was trig to see how his girls responded.
They didn't respond well as they were outscored 6-3 after Hazlett made one of two technical shots.
Smith led the way for the Lady Bobcats with 21 points. Junior Madison McDowell scored six and senior Amber Garver scored two. Fellow seniors Alex Gorman and Courtney Payne were held scoreless in their final regular season home game.
The Bobcats are the No. 2 seed in their sub-state field and will host No. 3 Atchison at 7:30 p.m. Thursday. The winner will advance to Saturday's finals, where it will face either No. 1 Piper or No. 4 Tonganoxie.