Nirschl reaches state finals in Salina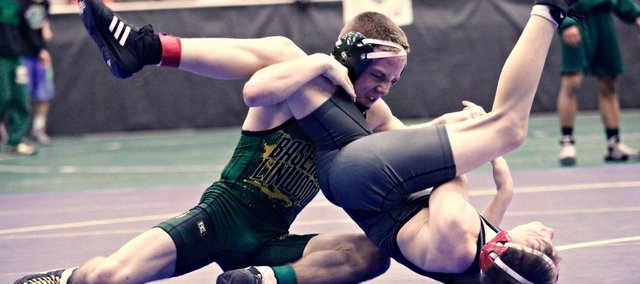 Salina — Corbin Nirschl's first wrestling season at Basehor-Linwood has already brought unprecedented success. But, with one more victory Saturday, the Bobcat freshman can add his name to a short list of wrestling greats to leave their mark on the program.
Nirschl, the state's top-ranked wrestler at 106 pounds, improved to 30-0 on the first day of the Class 4A state tournament, winning three matches to reach Saturday's championship match.
After pinning Baldwin's Levi Green in his state opener, Nirschl cruised to a 12-2, major-decision win against No. 4 Logan McDowell of Abilene in the quarterfinals.
The quarterfinal victory set up a semifinal matchup with No. 3 Tyler Flood of Paola, whom he defeated by just a point in a Jan. 11 meeting at the Dick Burns Mat Classic in Bonner Springs. Friday's rematch wasn't nearly as close, though, as Nirschl set the tone early and powered his way to a 10-3 win.
Nirschl will take on Colby's Tate Carney in the championship match. Carney (36-4) also went 3-0 Friday with a technical fall and two victories by decision. With a win, Nirschl would become just the school's third state champion alongside Matt Dukes (145 pounds in 2002) and Symon Seaton (125 pounds in 2010).
BLHS will also have two other wrestlers still alive in consolation action when Saturday's competition begins. John Hopper (152) and Cory McCleary (160) each won their opening matches, but fell into their respective consolation brackets when they suffered losses in the quarterfinals. Each wrestler would finish third with four wins Saturday, but needs just two to guarantee a medal.
Dalton Inlow (138) and Josh Summers (145), the team's only other state qualifiers, were eliminated after going 0-2 on Friday.
As a team, the Bobcats enter Saturday in 18th place with 27 points. Holton currently leads the team standings with 85 points — 33.5 more than second-place Colby. Action will begin at 9 a.m. with consolation cross-bracketing.