Basehor looks for continued growth in 2014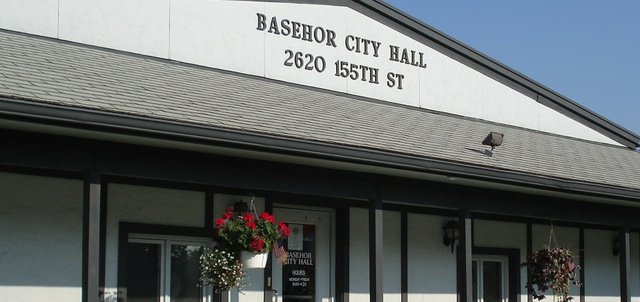 Basehor — After a productive 2013, the City of Basehor is looking to keep its positive momentum rolling into the new year.
The city council, staff and mayor will meet in March for their annual budget retreat, where planning will begin for the year's next big projects. Top on the list are improvements to Basehor City Park, road and sidewalk upgrades and the implementation of the city's new comprehensive plan.
"I've challenged the staff in 2014 to come up with a list of projects to upgrade, like streets and sidewalks, and to present them at the budget meeting," Mayor David Breuer said recently. "In order to get plans moving, we have to try and focus on identifying projects, engineer them and then develop a plan to match any state or federal funds."
Improving parks
In 2014, the city has an available $55,000 in capital outlay funds for parks and recreation. Breuer said that money already has been allocated to improve the softball fields and football field at Field of Dreams Athletic Complex, 14333 Fairmount Road. The complex is owned by the city, but the management of the complex is run by a contractor.
A large portion of the parks and recreation funds is also being allocated to build a new shelter at Basehor City Park. Former City Clerk Corey Swisher said the park's shelters were completely booked in 2013, and many people interested in renting one of the available shelters were turned away. As part of the conceptual plan for the expansion of the city park, several new shelters will be built. Also included in the plans are tennis courts, a frisbee golf course, an extended trail and a children's and teen's playground.
Breuer and Interim City Administrator Lloyd Martley said the city council and city staff will have to decide throughout the year how to phase in construction in coming years.
"I think you'll see some improvements to the park, but probably not everything," Martley said. "Sidewalks and connectivity are a priority."
Sidewalks and city campus
Breuer and Martley said the city hopes to improve its sidewalk system so a sidewalk running along 155th Street would pass by Basehor Middle School and continue not only to the park but to Basehor Community Library and what the city hopes might be a new city "campus."
That campus could potentially include a new city hall, Emergency Medical Services building, police station, community building and business center, Breuer said. The city has allocated $1.5 million from the capital improvement fund, raised from a portion of local sales and use taxes, for those plans. Breuer said the city is already in discussions with Basehor landowners for potential campus sites, one being near the intersection of the new Wolf Creek Parkway extension and 158th Street.
Major retailers
The early completion of Wolf Creek Parkway has opened up lots parallel to State Avenue that the city hopes will attract new businesses. The interest is there, Breuer said, but to lure new restaurants or a grocery store, the city has to show prospective companies statistics about the traffic flow in the area and the number of residents in a 3-mile radius.
Those numbers are still below what many want to see, Breuer said, despite significant growth. In the past 20 years, Basehor's population has quadrupled, from 1,250 to about 5,000. In 2013, Basehor received 87 new building permit requests, mostly for housing. The 87 requests are double the number the city recieved in 2012.
But to attract a local grocery store or restaurant like Applebee's, Breuer said, the city has to be open to "concentrated living developments." The city council recently rejected plans for a low-income senior housing complex that would have more than 40 units near Amber Road and 155th Street. Breuer said that unless the community accepts a larger housing complex, it may take another decade to attract major businesses.
"The numbers are getting close, but they just aren't there yet," Breuer said.
Growing forward
Breuer thinks the key to maintaining Basehor growth is to continue advertising the school district and taking advantage of the city's location near The Legends and Kansas City.
"The growth is going to come from the east to the west," Breuer said. "I am extremely pleased with the year we had in 2013, and I'm extremely excited for the potential of 2014."