Bonner Springs grad speedily raises funds via the web for designer line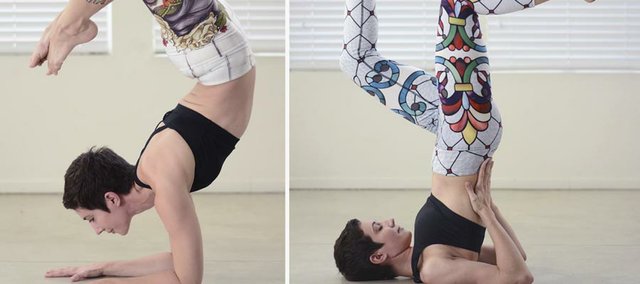 Tina Zeljeznjak knows that, as she says, "The Internet is a big place; it is very easy to get lost in it."
But the 2001 Bonner Springs High School graduate already has proven she is anything but lost.
A fashion designer in Los Angeles, Zeljeznjak — who uses the name Chriztina Marie professionally — is launching Eagle Rock Werkshop, a women's line of designer, high-performance workout leggings. As of Tuesday, she has raised $53,231 in just 31 days for her line using the website Kickstarter, where people can pledge funding for creative projects from films to design and technology.
Zeljeznjak already has found a fair level of success as a designer. In her day job, she is a design director for a men's denim brand, currently exclusive to Macy's department stores. Her designs also have been featured in GQ magazine and can be found at stores including TJ Maxx, Ross and Burlington Coat Factory.
She didn't plan to be a fashion designer while growing up in the Bonner Springs area — her dream then was to go to an art school in Boston and become a Disney animator.
But when she was 17, she and her sister backpacked through Europe and met their great uncle, a master craftsman who sold handmade ballroom dancing slippers throughout Europe.
"He had a teeny tiny shop in Ljubjana, Slovenija, and supported his entire family with the craft," Zeljeznjak said. "It made me look at fashion as wearable art instead of a necessity."
So when she got back home, she began applying to fashion design schools and got a "Designer of Tomorrow" scholarship to the Fashion Institute of Design & Merchandising in Los Angeles.
While in L.A., she has become a fitness enthusiast, for a time writing her own blog about healthy living and eating at strongerthanacupcake.com. This led to her awareness that the variety of leggings created for yoga enthusiasts and other athletes was severely lacking.
"Basically, I adore fashion leggings and while they look great, they are not designed to move in at all — the fabric is usually thin and slinky and does not breathe," she said. "On the flip-side, most fitness leggings are drab or just not attractive. I am not a fan of the high contrast waistband or miscellaneous neon stripe."
So she decided to create a line of leggings that would be appropriate to wear within a regular wardrobe or while participating in athletic activities. The leggings have Olympic-quality fabric with flatlock seams and a hidden pocket at the waistband, as well as digitally-printed artwork, and will be made in the USA. There are 17 different designs currently, from an orchid print to a graphic of King Tut's sarcophagus, though Zeljeznjak will add more once her Kickstarter campaign is complete.
"Clothing is an expression of self, and so I wanted to create a product line that would speak to peoples' different personalities and allow them to wear on the outside what they feel on the inside," she said.
Zeljeznjak said she decided to use Kickstarter both for its ability to create momentum and visibility for her line before it was launched, and its function of funding the first run of production.
"As an apparel manufacturer, you are required to pay for everything up front," she said. "… You need a lot of money to get the ball rolling properly. With Kickstarter, I am able to 'pre-sell' the leggings and have the money I need on hand to pay for the first production."
The Werkshop line met its minimum $20,000 goal to start production in the first 11 days of its Kickstarter campaign. Zeljeznjak credits the rapid fundraising to getting the word out via social media: She said she spent more than six months promoting the campaign prior to launch, posting concept art and illustrations to Instagram and Twitter.
The final day for Zeljeznjak's Kickstarter campaign is Wednesday. At more than $50,000, she has the funds to expand the line's fits, like shorts or full-length pants. If she can reach $75,000, she thinks she will be able to add options for men.
Zeljeznjak estimates she will be shipping her first orders of leggings in March.